Israeli aircraft strike sites in Gaza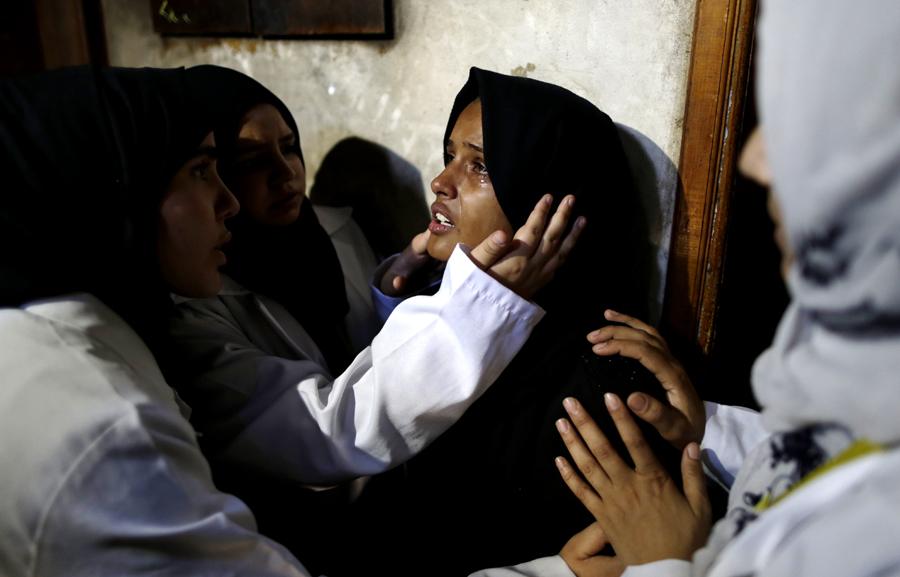 GAZA-Israel struck Hamas sites in the Gaza Strip on Sunday before dawn after Gazan militants fired rockets at Israel, the Israeli army said, breaking a three-day de facto ceasefire.
An Israeli military spokesperson said that some four projectiles were fired at southern Israel overnight, with three of them intercepted by Israel's Iron Dome anti-rocket system.
Rocket alerts sounded in Israeli towns and villages near the border after dark, sending residents rushing to shelters. None of Gaza's militant groups claimed responsibility for the rocket fire.
The spokesperson said that in retaliation, Israeli fighter jets hit 10 sites in three military compounds belonging to Hamas, the Islamist Palestinian organization that runs the besieged enclave.
Later, Israeli aircraft carried out additional airstrikes in southern Gaza, striking five targets at a compound belonging to Hamas' naval force, the spokesperson said.
The Israeli military said in a statement that the "IDF (Israel Defense Forces) views the Hamas terror organization's actions with great severity and will continue fulfilling its mission to protect Israeli civilians as necessary".
There were no immediate reports of casualties.
No group in Gaza claimed responsibility for the projectile attacks, which came shortly after the Saturday funeral of Razan al-Najjar, 21, a volunteer with the Gaza health ministry, who was fatally shot in the chest near Khan Yunis on Friday.
Following the funeral, several Gazans were wounded in clashes east of Khan Yunis, health ministry spokesman Ashraf al-Qudra said.
Prime Minister Benjamin Netanyahu said after the strikes that Israel's military had delivered the "harshest blow" in years to Gaza militants.
'War crime'
Addressing Najjar's death, the UN envoy for the Middle East, Nickolay Mladenov, said in a Saturday tweet that "Medical workers are#NotATarget!" and that "Israel needs to calibrate its use of force and Hamas need to prevent incidents at the fence".
The Palestinian Medical Relief Society said Najjar was shot "as she was attempting to provide first aid to an injured protester", with three other first responders also hit by live fire on Friday.
"Shooting at medical personnel is a war crime under the Geneva conventions," the PMRC said in a statement, demanding "an immediate international response to Israeli humanitarian law violations in Gaza".
Israel and militant organizations in Gaza reached a de facto ceasefire last week, after a flare-up during which dozens of mortars and rockets were fired at southern Israel and Israel pounded Gaza with dozens of airstrikes.
The violence was part of a serious escalation in the border area between Gaza and Israel over the past months. Palestinian protests, which started as the Great March of Return on March 30 demanding Palestinian refugees' right to return home, escalated after the relocation of the US embassy from Tel Aviv to Jerusalem. At least 121 Palestinians in Gaza have been killed in clashes with Israeli forces.
Israel, which has drawn international condemnation for its use of deadly force, says many of those killed were Hamas members and militants trying to launch attacks under cover of the protests.
The Palestinians say most of the dead and the thousands wounded were unarmed civilians against whom Israel was using excessive force.
More than 2 million Palestinians are packed into the narrow coastal enclave. Israel withdrew its troops and settlers from Gaza in 2005, but maintains tight control of its land and sea borders, citing security concerns.
Xinhua-AP-Reuters