Tour introduces Xi'an to ethnic Mongolian culture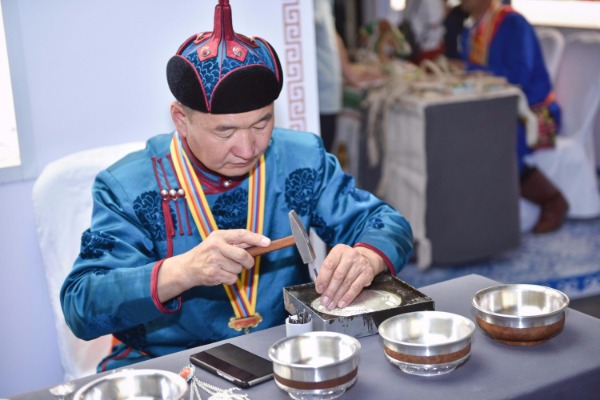 With strings of coral beads, silver plates patterned with flowers and embroidery kits scattered on the table, Bato Checheg demonstrates the art of making traditional Mongolian ethnic headwear, a skill she learned from her mother about 25 years ago.
Despite the crowds surrounding her, she cannot help murmuring a Mongolian folk song from her hometown, Ordos Otog Banner, Inner Mongolia autonomous region. Titled Riding Home, the song depicts the way Mongolian ethnic people welcome guests to their home on the grasslands.
"I sing the song when I work on the headwear. It's an old habit," says the 54-year-old Bato Checheg, in her blue and red traditional Mongolian robe.
The whole set of the headwear weighs more than ten kilograms.
"I learned the patterns and embroidery techniques from my mother and my mother learned these from her mother. It's our family knowledge of culture," she adds.
Bato Checheg has been recognized as an intangible cultural heritage inheritor and her craft was added to the list of the Intangible Cultural Heritage of Inner Mongolia autonomous region in 2007.
Along with the five other intangible cultural inheritors from Ordos city, she traveled to Xi'an recently to showcase her skills and conduct workshops with students from primary and middle schools around Xi'an.
As part of the ongoing Ordos Culture Nationwide Tour 2018 Xi'an Week, which takes place in the Shaanxi provincial capital until June 3, the intangible cultural heritage event will include inheritors showcasing their skills in silver bowl making, horsewhip making and wood carving.