Noodle school encourages the female touch
Share - WeChat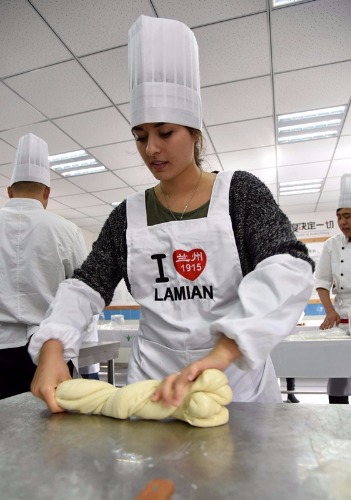 A project launched to raise employment levels among poor rural women by teaching them how to make a popular noodle soup has become a surprise hit with ambitious young Chinese educated at universities overseas.
A three-month, women-only course opened last month at the Xinglong Beef Noodle Vocational School in Lanzhou, capital of Gansu province. It covers every aspect of running a restaurant specializing in Lanzhou lamian, a popular traditional dish, from preparing the ingredients to serving customers and cleaning.
Lanzhou lamian-a clear broth containing sliced beef, radishes, cilantro, chopped scallions, chili oil and handmade noodles-is arguably China's most popular fast food. More than 30,000 outlets sell the dish nationwide, generating combined revenue of about 60 billion yuan ($9.3 billion) last year.
The sector is dominated by men, especially in the kitchen, which some attribute to the strength required to knead and hand-pull the flour noodles. To address the gender imbalance, and equip women from underdeveloped areas with the skills to start their own businesses, the Gansu branch of the All China Women's Federation joined with the school to offer the 90-day course.
Nearly 100 women signed up, including Mao Wenjun and Bao Yuzhi, both Lanzhou natives who study abroad.
"My dream is to start my own business, and learning how to make Lanzhou lamian takes me one step closer to that dream," said Mao, who recently graduated from Rutgers University in the United States with a degree in public administration.
The 27-year-old plans to put the skills to use overseas, where there is a growing market for Chinese fast food such as beef noodles.
Bao has a similar ambition. The 26-year-old, who is studying for a master's in biological engineering at the University of Melbourne, wants to open a restaurant in the Australian city to share her hometown's traditional culture and cuisine.
"I want to deliver my passion for cooking lamian to Australia to help more people there get a taste for the dish," she said.
This global outlook is part of the reason lamian industry insiders want more women to become involved.
Dong Fanggong, one of China's best-known beef noodle chains, opened its first restaurant in Beijing five years ago. Now, it has more than 200 outlets in the capital, as well as in New York, and Canada's Vancouver and Toronto.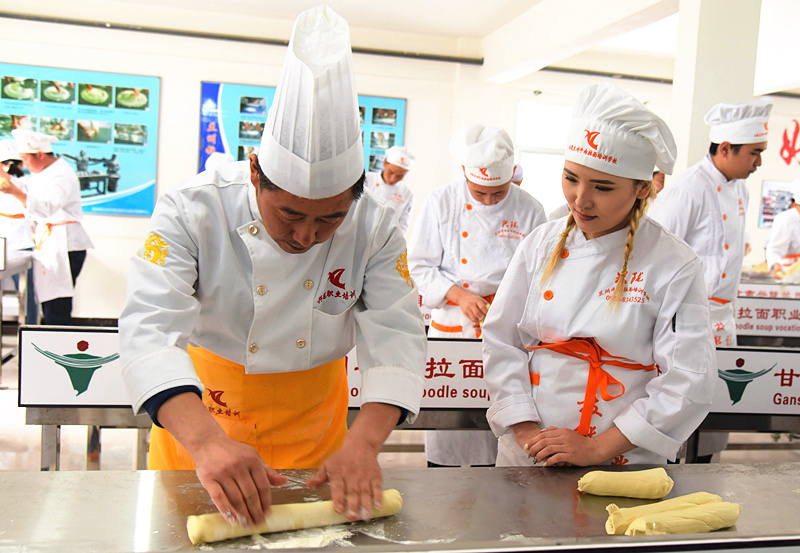 Jinweide Beef Noodle Co, another chain that specializes in Lanzhou lamian, has 13 outlets across Japan, South Korea and Australia.
Liang Shunjian, the owner of Jinweide and president of the Xinglong vocational school, said the boom in demand for the dish has also seen customers' expectations rise.
Lanzhou lamian restaurants once had a reputation for being untidy or insanitary, with low standards of cooking. The traditional open environment-the kitchen is usually on view to diners-allows customers to see how the hand-pulled noodles are made. But it can also result in a noisy environment and seemingly chaotic ordering process.
"The dining environment, rather than the cooking, has emerged as more important for the industry," Liang said, noting that the lack of vocational schools has led to a shortage of qualified staff members.
Introducing more women into the industry "will open the door to greater innovation and increase diversity", he added.