Chinese universities ranked among global elite
Share - WeChat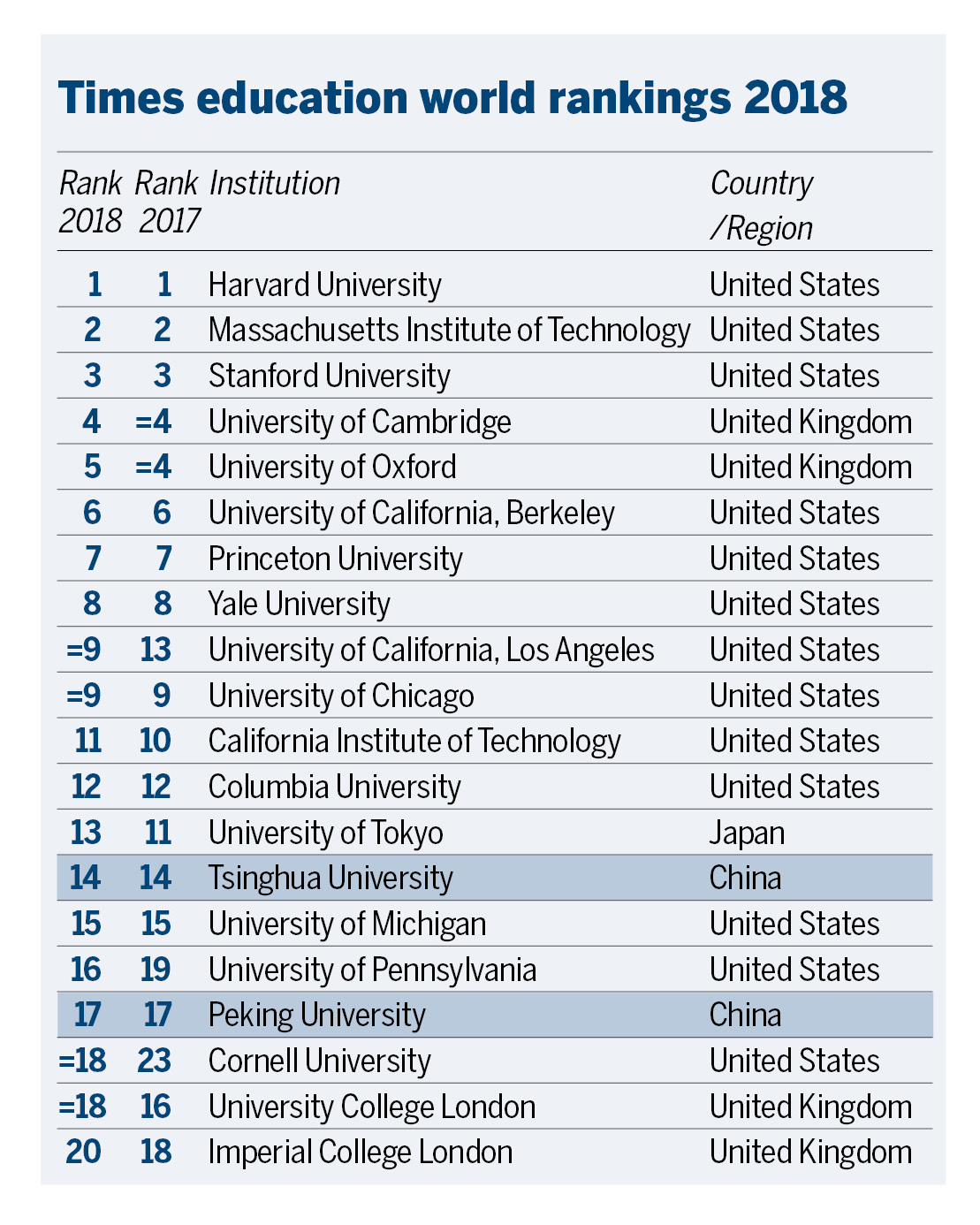 Two Chinese universities have been placed in the top 20 of this year's Times Higher Education World Reputation Rankings, according to data released on Thursday.
Tsinghua University and Peking University are ranked in 14th and 17th place respectively - the same positions they held in last year's rankings.
The top 20 comprises 13 US universities, four British and three others.
Harvard topped the league table, followed by Massachusetts Institute of Technology and Stanford University. The list has four British universities, which are Cambridge, Oxford and London's University College and Imperial College. The University of Tokyo is also included in top 20.
Traditionally Chinese universities scored less well in international ranking tables compared to US and European incumbents in levels of teaching and research.
This changed two years ago, though, when Tsinghua University broke into the top 20 for the first time, ranking 18th in 2016.
Last year, Peking University joined it in the top 20.
Phil Baty, editor of the rankings, said: "it seems that China's relentless march up the global league tables has stalled, after making major gains in recent years.
"This new data shows just how hard it is for emerging powers to break into the traditional global elite," he said.
However, Baty said the stabilization of Chinese universities' rankings is no cause for alarm. "Continued investment built on decades of spending, and increased internationalization in Chinese higher education will no doubt ensure China's universities continue to strengthen," he said.
In addition, another seven Chinese universities appeared on the league table's top 100 schools.
They are: University of Hong Kong, Hong Kong University of Science and Technology, Chinese University of Hong Kong, Zhejiang University, Fudan University, University of Science and Technology of China, and Shanghai Jiao Tong University.
The rankings give an overall score to universities based on a wide-ranging survey of scholars. The latest rankings are based on 10,000 responses received between January and March 2018.
The Times list is one of the world's most respected university ranking league tables, alongside the QS World University Rankings.
The latest QS World University Rankings placed Tsinghua University and Peking University in 25th and 38th places respectively.
China has its own Academic Ranking of World Universities, launched in 2003. In 2017, Tsinghua University was ranked 48th, its first ever placing in the top 50.