Rescued toddler 'had already fallen two floors'; family thank Paris hero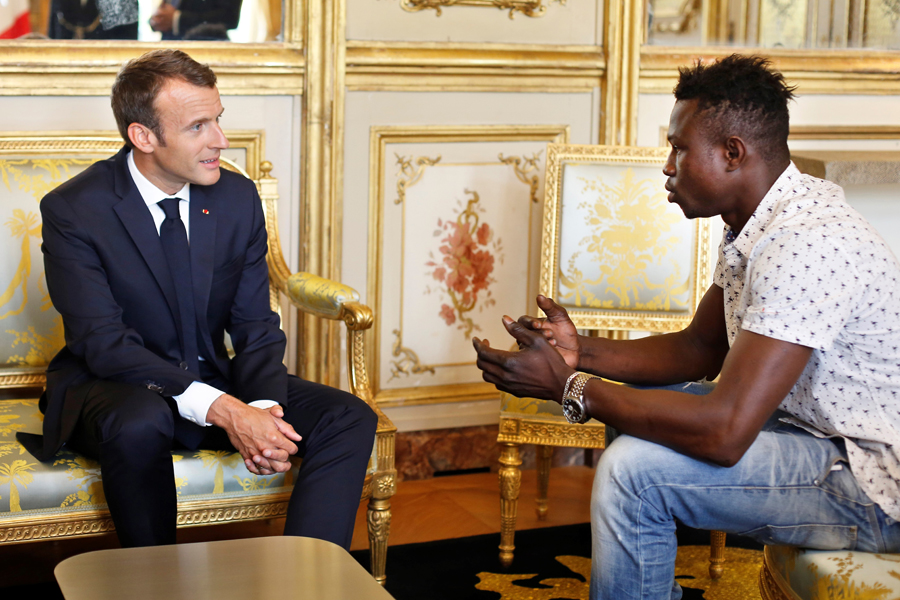 Investigators now believe the small boy who was dramatically rescued from a fourth-floor balcony in Paris on Saturday may have already fallen two levels, from his home on the sixth floor.
The building's concierge told BFMTV the boy and his father lived in an apartment on the sixth floor.
The station reported that the boy seems to have fallen two floors and to have somehow grabbed hold of the fourth-floor balcony. It said a resident in the neighboring fourth-floor flat asked the boy where he lived after the rescue and he pointed up.
The 4-year-old's sensational rescue by 22-year-old Malian immigrant Mamoudou Gassama made headlines around the world and was followed by French President Emmanuel Macron on Monday thanking the rescuer and offering him French citizenship.
On Tuesday, Gassama took his first step toward French citizenship and joined the fire brigade as accolades continued to pour in over his daring rescue.
AFP reported on Tuesday that the boy's mother and grandmother have also thanked Gassama, who had been living in France illegally since September 2017 after he crossed the Mediterranean in a boat along with other refugees.
The agency reported that the boy's father had left him home alone while he went out to the shops. It said investigators believe he delayed his return to the apartment so he could play Pokemon Go.
The boy's mother who lives on Reunion Island, the French Indian Ocean territory, thanked Gassama when she appeared on Antenne Reunion radio late on Monday.
"We can only thank him and thank heaven he was so reactive," she said. The woman, who has not been named, said French police phoned her to tell her about the rescue.
"Then, I saw video on the internet. But I should not have watched it because you know it's your son in the video …Things could have turned out much worse, so I am relieved."
She said she has also spoken with the boy and his father since the incident and is anxious for them all to be together again.