Accused USC doctor defends self in letter to LA Times
Share - WeChat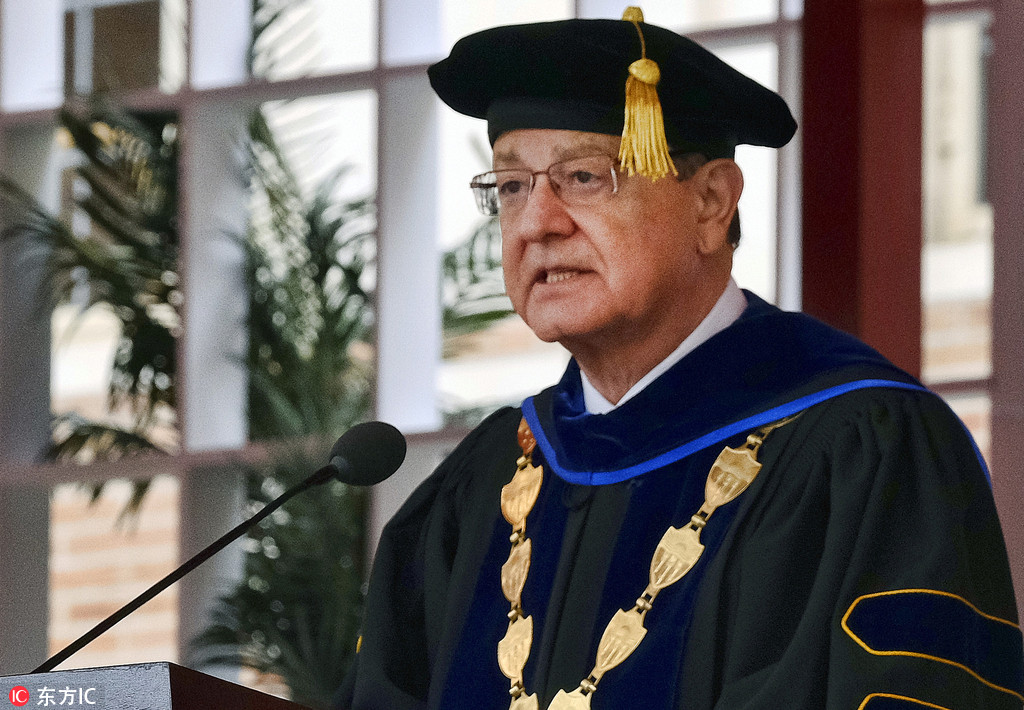 George Tyndall, the former doctor at the University of Southern California accused of sexually abusing patients for nearly three decades, maintained that he had done nothing wrong, in a letter to Los Angeles Times on Friday, the Times reported.
"Patients sometimes fabricate stories," wrote Tyndall, a former gynecologist at the university student health center, adding that male and female clinicians who conduct pelvic exams should always have a chaperone present.
According to Tyndall, he had heard of only one patient's complaint before March 2016, which alleged that he had not worn gloves during a pelvic examination.
He also said the clinic's then-executive director, Dr. Larry Neinstein, conducted a poll of medical assistants or nurses who accompanied him as chaperones when he saw patients and that "they confirmed that an exam without a glove never happened."
Mike Lopez, a public information officer at Los Angeles Police Department, told China Daily on Monday that no formal investigation has been launched against Tyndall.
The state medical board confirmed to the Times that it is now investigating Tyndall.
As of Friday afternoon, around 21 former patients of Tyndall, including three Chinese graduates of USC, had filed lawsuits against the university for allegedly ignoring the complaints of staff and patients against Tyndall.
About 385 women had called a hotline set up by USC to report their experiences with Tyndall.
Tyndall, 71, a veteran gynecologist at the USC student health center, had been accused of misconduct such as improper behavior during pelvic exams and making suggestive sexual comments. He reportedly targeted Chinese international students for their limited understanding of English and US medical practices.
Complaints about Tyndall's behavior started as early as 1990s, but USC reportedly took no action until a frustrated nurse went to the campus rape crisis center in 2016.
In a public letter released May 21, Provost Michael Quick acknowledged that that the system for reporting and disciplining Tyndall had broken down, but he said university leaders did not know about the complaints until 2017. USC also allowed Tyndall to resign with a financial payout last summer.
The scandal spurred criticism from faculty members and students about the way the university leaders handled the complaints. Hundreds of faculty members and more than 4,000 alumni and students demanded that President C.L. Max Nikias step down.
The Board of Trustees stood by Nikias at first but later relented. It announced that Nikias would resign in a public statement on Friday.
Liu Yinmeng in Los Angeles contributed to this story.