Right time for EU to link its investment plan with initiative
Share - WeChat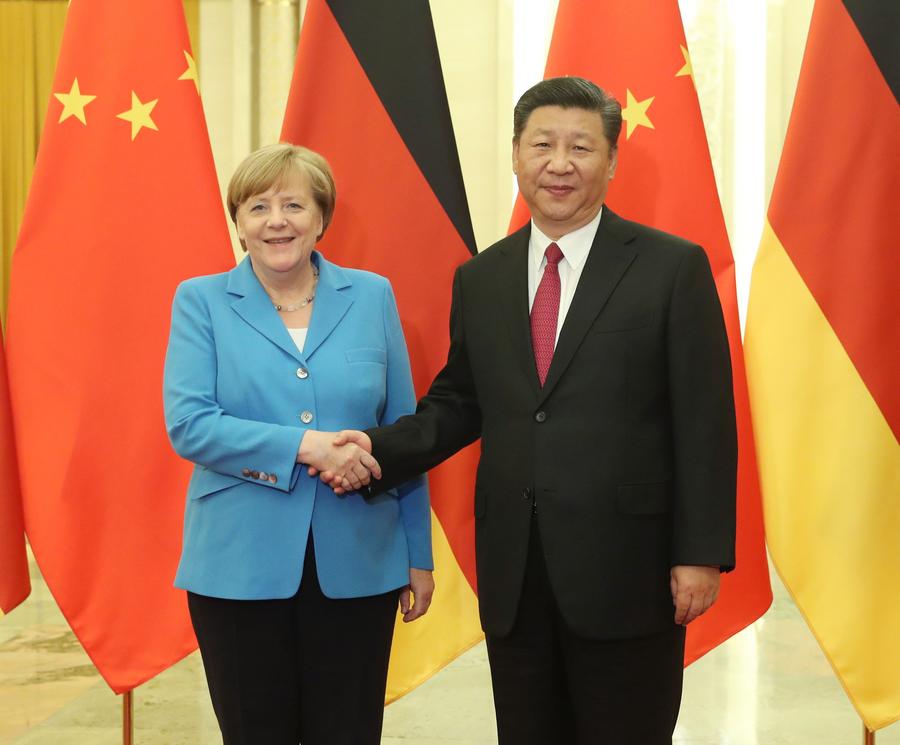 Last week, German Chancellor Angela Merkel concluded her 11th visit to China since 2005, more than the number of times she has visited the United States. Her frequent visits to China reflect the closeness of Sino-German relations and her efforts to deepen this valuable relationship.
Like Merkel, the leaders of many European countries also want to deepen their ties with China. In fact, from January to May, European leaders such as French President Emmanuel Macron, British Prime Minister Theresa May, Dutch Prime Minister Mark Rutte and Austrian President Alexander Van der Bellen visited China, in order to strengthen bilateral ties.
Given the uncertainties and widespread mistrust in the world, mainly because of the unstable policies of the US, the dialogue between European Union member states and China, and the exchange of visits by their top leaders are extremely significant. The leaders' statements, media reports and communiqués show their meetings have been, by and large, constructive and encouraging. For example, all the European leaders have supported the China-proposed Belt and Road Initiative and agreed to work with China to promote globalization, free trade and multilateralism.
In fact, Merkel said she supports China's cooperation efforts in Europe, so do the leaders of the 16 Central and Eastern European countries, because such cooperation could help bridge the development gaps in Europe.
These leaders also seem eager to strike a bilateral investment deal with China, which could create room for China and the EU to launch free trade talks in the future. But Beijing has to deal simultaneously with Brussels and the EU member states, especially on cooperation on foreign policies, and economic and financial rules. The problem is that Brussels is conservative when it comes to accepting changes, and its decision-making process is time-consuming. And sometimes, some EU officials are influenced by ideology and/or lobbying groups, rather than the leaders of the EU countries.
So more concerted efforts are needed to make Brussels agree to new consensuses reached between the leaders of China and EU member states. When President Xi Jinping met Merkel last week, he urged that China and Germany deepen their cooperation by shelving their ideological differences. Despite the success of Sino-EU cooperation, the ideological differences are preventing some EU countries from capitalizing on the opportunities created by China's rapid economic development.
The five-year term of European leaders such as European Council President Donald Tusk and European Commission President Jean-Claude Juncker will end next year. Therefore, they need to make more efforts to lift Beijing-Brussels relations to a new level, especially because they are losing confidence in Washington, are wary of Moscow and will soon see Britain exit the EU.
Juncker, who was the prime minister of Luxemburg from 1995 to 2013 and minister of finances from 1989 to 2009 before heading the EC, has had a close working relationship with China for three decades. But his handling of the EU's relations with China has not been as fruitful as his handling of China-Luxemburg ties.
The announcement of a new round of reform and opening-up by China to welcome foreign investment in the financial, service and high-end manufacturing sectors has created more opportunities for the EU member states. In return, therefore, the EU leaders should make efforts to establish a link between the Belt and Road Initiative and their investment plans. The EU leaders should also take steps to ensure that before their term ends, Beijing and Brussels can at least exchange the text of the bilateral investment pact and launch a feasibility study.
Since Beijing is ready to set a timetable for the purpose, Tusk and Juncker, when they visit China later this year to hold their annual meetings with Chinese leaders, must show they are eager to do the same, so that Beijing and Brussels can fulfill their due global responsibilities of promoting free trade and deepening partnerships to develop a community of shared future for humankind.
The author is deputy chief of China Daily European Bureau.
Most Viewed in 24 Hours
China Views