Educational reform teaches prisoners crucial lessons in life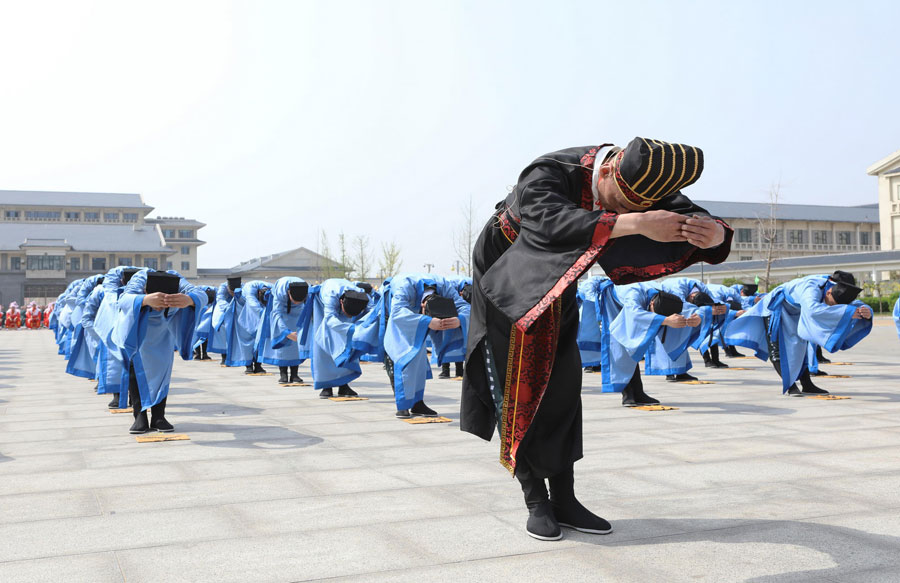 Inmates are being offered classes in cultural topics to aid their reintegration into society and reduce the level of reoffending, as Zhang Yan reports with Zhang Yi in Tianjin.
Zhou was overjoyed when his fellow inmates applauded him for winning third prize in a Chinese character dictation competition at Xiqing Prison in Tianjin.
In 2013, the 37-year-old, a former cashier at a chemical plant, was convicted of embezzlement and sentenced to 10 and 1/2 years by Beichen District People's Court in the northern port city.
Li Wenzheng, the warden of Xiqing prison, said it is the fifth year the dictation competition has been held as a major part of an educational reform program. Similar cultural activities, such as speaking contests, tests about literary allusions and Chinese idioms, and readings of classic poems, are held regularly.
According to Xing Hui, director of the prison's education department, the activities are designed to "encourage the prisoners to improve their reading and writing skills, and learn the essence of traditional Chinese culture, including gratitude, diligence, responsibility and penitence. That will help them understand the severity of their crimes and establish a correct outlook on life and social values, which will reduce recidivism".
The program has had a great influence on Zhou, who preferred not to give his full name. "I felt depressed and hopeless when I was first in prison, especially as I missed my family, but I didn't have a way to express myself," he said. "Later, encouraged by the guards, I gradually threw myself into the daily labor schedule and the cultural activities."
The prison has more than 1,000 inmates, many of whom are serving life sentences after being convicted of serious crimes including rape, fraud or robbery. There are also a number of prisoners in isolation blocks who have a range of infectious diseases.
Study groups
In addition to regular classes in Chinese and law, the prison provides a number of study groups where inmates can learn about traditional culture, ancient poetry, moral issues and other philosophical or literary topics, according to Xing.
Zhou said his command of language was poor when he first arrived at the prison, so the letters he wrote to his family contained many mistakes and he often became confused about the meanings of words and characters. Since joining the language classes, though, he has learned to use a number of idioms and can even quote poetry in his letters.
"My 8-year-old daughter praised my writing last time I wrote, even though she barely knows me. She is in the second grade and ranked in the top five in her class. I feel so sorry for her and I deeply regret my crime," he said, with tears in his eyes, adding that his daughter was only 3 when he was sent to prison.
"Through studying Chinese and cultural topics, I have changed a lot. I have learned how to get along harmoniously with other people, and be open-minded and more tolerant."
His parents are both in their 70s, but the family insists on visiting him every month even though the journey is long and arduous.
"What I want now is to behave well and learn some skills in prison then try to get parole, so I can get out as early as possible and start a new life to make things up with them," he said.
Xing said the prison authorities hope the study classes will help change the prisoners' outlook on life, prompting them to reflect on their crimes and learn how to get along with other people.
"Not only is this conducive to maintaining order in the prison, it also helps to reduce the reoffending rate when they return to society," he said.