Apology, not appeal requested by scientist
Sherry Chen, a Chinese-American hydrologist who won her case against the US Department of Commerce, called for an "apology, not appeal" in Washington on Wednesday.
Wrongfully arrested on spying charges and fired, Chen was the victim of a "gross injustice," according to a decision issued by a judge on the Merit Systems Protection Board last month.
"The judge totally cleared my name and provided stunning detailed point-by-point rejections of the agency's allegation against me," Chen said.
The judge ordered the Commerce Department (DoC) to restore Sherry to her job at the National Weather Service.
Despite the detailed findings in the 135-page decision, the DoC has announced its intention to appeal.
"What the DoC should do now is apologize not appeal." said Congressman Ted Lieu.
"She should be reinstated. She should get her back pay. There should be an apology and certainly no appeal," said Congresswoman Judy Chu.
A letter signed by thirty members of Congress has been sent to Secretary of Commerce Wilbur Ross, requesting an independent investigation into Sherry Chen's case.
Sherry Chen, an award-winning hydrologist for the United States Department of Commerce's National Oceanic and Atmospheric Administration office in Wilmington, Ohio, was accused of espionage for China and arrested by the FBI in 2014.
Just a week before Chen was to go to trial, the charges were dropped with little explanation.
Months after the case fell apart, Chen was fired, citing "conduct demonstrating untrustworthiness" and "misrepresentation".
The judge that ruled in her favor overwhelmingly against the DoC wrote that officials from the DoC were intent on firing Chen regardless of what facts arose.
"Time is up for the Department of Commerce," said Steve Simons, Chen's attorney. "They need to face up to what has happened, accept responsibility and give Sherry the justice she deserves.
"I hope the DoC can learn a lesson from my case, take responsibility for their actions, correct the wrongs that have been done and make sure that such gross injustice that happened to me will never happen again to any other innocent employees," said Chen.
"It is also a concerning fact that more Chinese Americans have been wrongfully targeted in recent years and more are in fear of being wrongfully targeted," Chen said.
"This situation is extremely detrimental not only to our national security but also to our public trust that our government is able and willing to do the right thing."
Yian Ke in Washington contributed to this story.
Contact the writer at leshuodong@chinadailyusa.com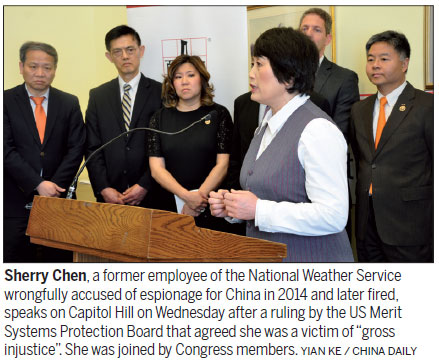 (China Daily 05/24/2018 page2)
Today's Top News
Editor's picks
Most Viewed