Speaking at governors forum, NPC official calls China, US 'inseparable'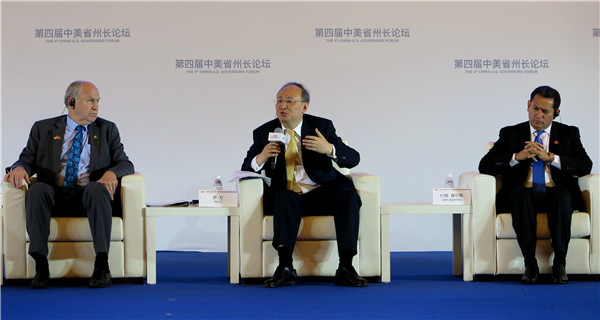 The scope of cooperation between China and the United States has expanded as a result of efforts by their governments and people over the past four decades, and the two are now inseparable, Wu Weihua, vice-chairman of the Standing Committee of the National People's Congress, said at the 4th China-US Governors Forum in Chengdu, Sichuan province, on Tuesday.
Forty years ago, China made its historic choice for reform and opening-up, which set its direction for development. At virtually the same time, it established formal diplomatic relations with the United States, and that was no coincidence, he said.
With reform and opening-up, China sought international exchanges and cooperation, including those with the United States, he said, adding that the great achievements arising from that moment have been attributed not only to the efforts of the Chinese people but also to the normalization of relations and cooperation between the two countries.
In 2017, two-way trade between China and the United States exceeded $580 billion. Between 1990 and 2017, two-way investment between China and the United States was nearly $400 billion. Nearly 15,000 people fly across the Pacific between China and the United States every day, Wu said.
The forums are an important regional exchange mechanism used by the two countries. Since the event was established in 2011, there have been four forums and two dialogues. The first three forums draw 26 leading officials from Chinese provinces and 33 US governors, according to Li Xiaolin, president of the Chinese People's Association for Friendship with Foreign Countries.
Terry Branstad, the US ambassador to China, said he was proud to have participated in the forum all four times - three times as governor of Iowa and this time as his country's top diplomat in China.
"Local partnerships are the cornerstone of bilateral relations, and we are paving the way for more development in China-US ties," Branstad said.
A day before the forum began, he visited the New Hope Group in Chengdu to explore agricultural cooperation.
On the sidelines of the forum, the US state of Alaska held a meeting to promote its tourism sector. David McCarthy, a manager at Denali Visions 3000 Corp, a company in the hospitality industry in Anchorage, the state capital, was one of the participants. He spent nearly two days en route to Chengdu.
It was his first visit to Sichuan. He knew little about the province before his arrival, he said, but he was looking for business opportunities.