Maduro declared winner of Venezuela's presidential election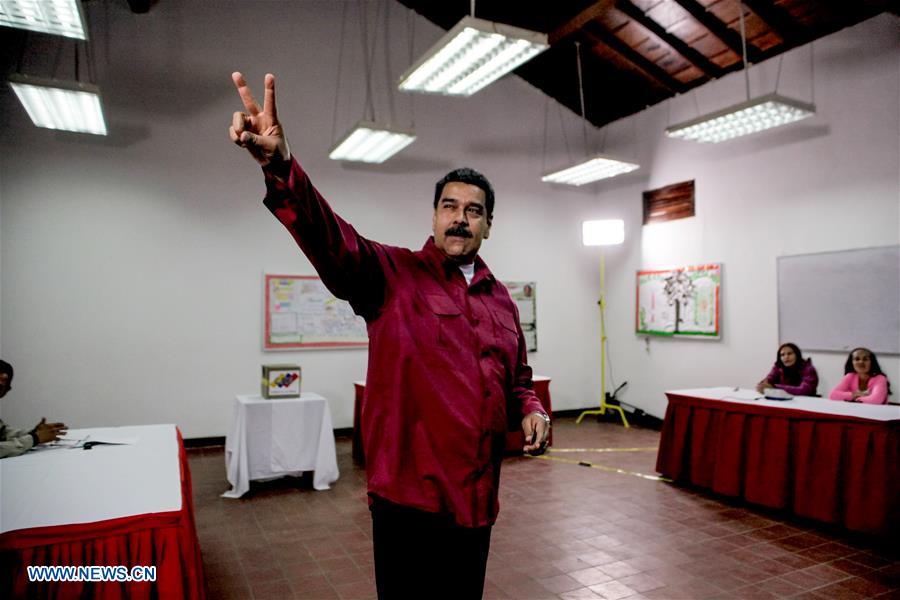 CARACAS - Venezuelan President Nicolas Maduro was reelected for a second six-year term in presidential elections on Sunday, according to the National Electoral Council (CNE).
Maduro was reelected by a wide margin, garnering over 5.8 million votes, Tibisay Lucena, the president of CNE, announced late Sunday.
His closest challenger Henri Falcon got around 1.8 million ballots and the third-place candidate Javier Bertucci got 925,042 votes.
Over 8.6 million Venezuelans went to the polls, putting voter turnout at 46.01 percent, Lucena said.
The announcement was made when the CNE counted more than 92 percent of ballots.
Voting progressed smoothly throughout the day, said Lucena, adding "there were no regrettable incidents" to mar the electoral process.
However, both Falcon and Bertucci denounced alleged voting irregularities minutes before the CNE issued its first official report.
According to Falcon, 87.6 percent of voting stations were close to so-called "red points," government-organized centers used to mobilize the vote in favor of the ruling United Socialist Party of Venezuela (PSUV), though he provided no proof to back up the claim.
"In addition, we have 91,732 complaints" from Falcon supporters "who were not allowed to access voting stations," the rival candidate said, adding he would not recognize the official outcome.
At a press conference, Bertucci told reporters that "if the results are very close, we are going to contest them; if the margin is very wide, we will have to concede."