Housing lotteries not best way to check prices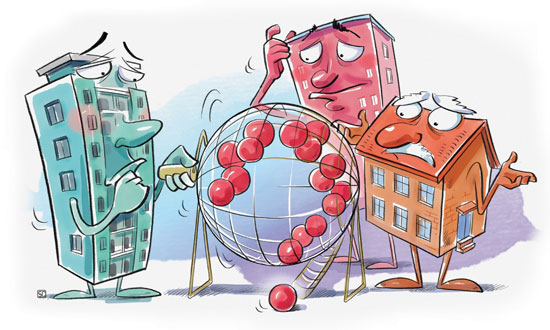 Starting from Xi'an, capital of Shaanxi province, in March, seven first-and second-tier cities including Shanghai, Nanjing and Wuhan have implemented a lottery system for housing sales.
Housing sales through lotteries used to be a common practice in the days when demand exceeded supply. But thanks to China's rapid economic development and ever-increasing supply of material products, lottery housing purchases became a thing of the past. In recent years, only vehicle license plates have been sold through lotteries, indicating an imbalance between supply and demand, especially because of the government's environmentally friendly measures. This is understandable given the high demand for vehicle license plates in big cities.
But it is strange to see cities that had excessive housing units only one or two years ago suddenly introducing lotteries for housing sales. Does this indicate a serious shortage of housing supply in some areas?
First, the introduction of national central cities as a way to reform urbanization in China increased the demand for housing in some cities. As China tightens its real estate policy, the designated national central cities have attracted an increasing number of homebuyers, widening the imbalance in demand and supply in the property market.
Second, the tightening of the real estate policy resulted in insufficient housing supply and thus increasingly raised the prices of even second-hand houses, as many cities' authorities mandated that new commercial housing be sold within a price limit. As a result, homebuyers are eager to buy new commercial housing units given their relatively low price but real estate developers are reluctant to sell them due to falling profit margins.
Third, the real estate control policy created panic in the property market. Although the long-term control mechanism is yet to yield results, administrative control measures, such as stricter criteria to qualify as a normal homebuyer, higher down payments and/or higher rates of interest for housing loans have all added to the difficulty of homebuyers.
Fourth, the reintroduction of lotteries for housing has spread panic among potential homebuyers. Which indicates housing demand exceeds supply and housing prices could rise further.
The authorities may believe that housing lotteries are a way to reduce manipulation and other corrupt practices in the real estate sector, but it is unfair to people desperate to buy a house, because they have to depend only on their luck to succeed in their endeavor.
Can housing sales through lotteries prevent housing prices from rising? The problem is, when it becomes difficult for an ordinary person to qualify as a "legitimate" homebuyer, even those who don't need to buy a house immediately join the pool of homebuyers, which will further widen the imbalance in supply and demand in the real estate market.
To meet the people's housing demand, housing supply has to be increased, including through rental housing or increased supply of public housing. In the short run, the authorities need to strengthen regulatory management of the real estate market.
Apart from preventing real estate developers from hoarding, so as to make higher profits, the authorities should also strictly implement restrictions on housing purchases to not only better meet the demand but also curb speculation in the real estate market.
Moreover, the sale of secondhand housing should also be regulated to curb speculation. For instance, some cities have implemented a policy to prevent newly bought houses from being resold within a certain number of years, and other cities should do the same.
The author is a researcher at the Institute for Urban and Environmental Studies, Chinese Academy of Social Sciences.
Most Viewed in 24 Hours
China Views