US still top choice for Chinese students
Share - WeChat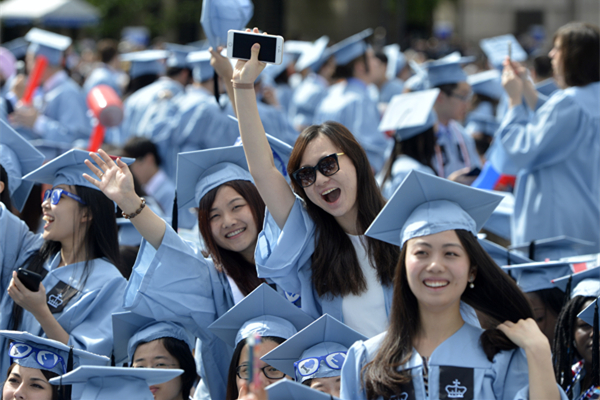 Guo Shuai, 26, became determined to study in the United States after watching the Disney movie High School Musical as a middle school student.
Unlike the high-pressure, test-oriented school system he was familiar with, the movie presented an alternative: a carefree atmosphere where students were independent, free to speak their minds, and enjoyed a wide range of social activities.
So when he graduated from Zhengzhou University in Henan province in June 2015, Guo did not hesitate to enroll at Fort Hays State University in Kansas to pursue an MBA.
Guo is just one of an increasing number of Chinese students choosing to study in the US.
China continued to provide the lion's share of foreign students to US universities in the 2016-17 academic year, according to the Institute of International Education, a nonprofit based in New York.
Of the more than 1 million foreign students who enrolled at US universities over the period, 350,755 - about 35 percent - were Chinese, up 6.8 percent from a year earlier.
In 2017, a survey of 6,217 Chinese students who plan to study abroad - or their parents - found that the US remained the top choice, preferred by 50 percent of respondents.
It was the third consecutive year the US ranked No 1 in the annual Report on Chinese Students' Overseas Study, compiled by Vision Overseas Consulting and Kantar Millward Brown, another consultancy.
Meanwhile, the US was the fourth-largest source of international students in China last year, according to the Chinese Ministry of Education.
Shi Yan, of the Chivast Education International consultancy in Beijing, said Chinese students go to the US because the country has the world's top-ranked universities.
"With fierce competition to get into colleges in China, studying in the US can be a good alternative," Shi said.
Having study experience in the US can also burnish Chinese students' resumes, as it demonstrates that they have more intercultural understanding and a stronger command of the English language, she said.
Gene Block, chancellor of the University of California, Los Angeles, said there has been increasing cooperation between UCLA and Chinese universities, such as the setting up of joint research programs with Fudan University, Zhejiang University and Peking University.
"We are working on an online adult education program with Zhengzhou University, offering master's degrees in engineering," he said.
More than 10 UCLA students visit Peking University for 10 weeks each summer through a student exchange program, and more than 90 Chinese university students also go to UCLA to attend summer programs every year, Block said.
"With outstanding research facilities, students and faculty, Chinese universities are quickly closing the gap with top universities in the US and may even catch up someday."