China makes world's thinnest phone glass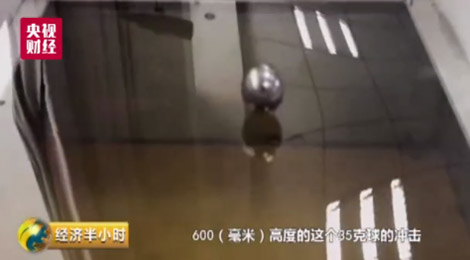 China has successfully produced the world's thinnest float glass with higher light transmittance and flexibility — the type most often used on telephone touch screens and similar devices.
Produced by the Bengbu Design and Research Institute for Glass Industry in Anhui province, the ultrathin float glass, measuring just 0.12 millimeters thick, or slightly thicker than a sheet of printer paper, has beaten the previous record of 0.15 mm also set by the institute.
This type of glass has highly improved the transparency as measured by light transmittance and the resilience. It also can bear the impact of a 55-gram steel ball falling from a height of 1 meter, as an experiment showed. All of this is "a very remarkable achievement worldwide for 0.12 mm glass", according to Cao Xin, the deputy director of the institute's State key laboratory.
Ultrathin float glass is widely used for touch screens on smartphones, tablets and other digital devices due to its transparency, flexibility and light weight, and is different from other types of glass in its manufacturing method in which glass is floated over molten metal.
It plays a critical role in making electrical devices increasingly lighter and smaller, which is also believed to be the future trend, according to Ren Hongcan, a general manager on the production line.
Ren said the majority of float glass in the past was either imported from abroad, or eroded by chemicals to make it thin enough. "Now that we got hold of the technique, the price of China's touch screen is sure to go down, which will surely benefit the entire electrical device market," he said.
The Bengbu institute started researching and manufacturing float glass in 2013. It first produced 0.33 mm in 2014 and managed to reduce the number to 0.15 mm in only two years.
The 0.12 mm glass is yet to hit the market as the demand barely emerges.
"Once we have the thinnest float glass in the world, all the other devices also need to be developed to match such a thin standard," Ren said. "But we are ready to launch it whenever there's need."
Now, instead of going thinner, the company is working toward better quality and stability. Ren said that the surface area of the glass can be limited by its thinness and developers are working on how to enlarge it.
Zhang Yangfei contributed to this story.