Qingdao plans frugal SCO summit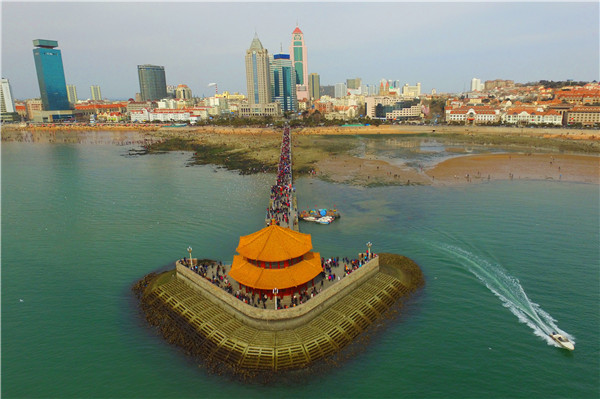 Port city actively renovating existing buildings for next month's gathering, Party chief says
The eastern port city of Qingdao is making final preparations to host a frugal Shanghai Cooperation Organization summit next month, local officials said.
Zhang Jiangting, the city's Party secretary, told a news conference last week that hosting the summit will bring new opportunities to Qingdao and the wider Shandong province.
He said a three-year plan issued by the city government last year included renovations and public-service improvements ahead of the summit. "Qingdao is beefing up security and public services," Zhang said. "We will work to make sure preparations for the summit are frugal, bring benefits to the people and do not disturb residents' lives.
"We took into consideration both the summit's requirements and people's needs for better lives. Now, we are combining hosting the event with improving the environment, urban construction and management."
To make the summit more efficient and economical, all the venues used will be renovated existing buildings, Zhang said, and they will be reused for other purposes and occasions after the summit.
He said eco-friendly materials are being used as movable and dismountable decorations that can be recycled. Meanwhile, roads, underground pipelines, and water and electricity supplies are being renovated for the summit and for long-term use.
The organization - made up of China, Russia, Kazakhstan, Kyrgyzstan, Tajikistan, Uzbekistan, India and Pakistan - covers about half the world's population and is a key part of the Belt and Road Initiative.
The summit has been held in China three times before, twice in Shanghai and once in Beijing. This year's summit, the SCO's 18th, will be the first since the bloc expanded to include India and Pakistan last year.
Ma Weigang, the head of Qingdao's commerce bureau, said the city had implemented 74 projects in SCO countries by last year, with a total value of $500 million, while SCO countries had 226 projects in Qingdao, in industries including electronics, fabrics and apparel, and logistics, worth around $475 million.
Trade between Qingdao, the seven foreign SCO members and the 10 countries that have SCO observer status or are dialogue partners rose 12.5 percent year-on-year to 39.02 billion yuan ($6.14 billion) last year.
Cui Dezhi, the head of Qingdao's tourism bureau, said hosting the summit is expected to boost the tourism sector's development.
"Starting this year, we have been working to address problems in public services and work safety, particularly in scenic spots and hotels," he said.
"Preparation of the summit is also expected to boost the upgrading of local tourism, while we also expect more global forums will be held in Qingdao after the successful hosting of the SCO summit.
"Experience shows that hosting important international events will noticeably boost a city's development, especially in its tourism sector."
Tourist spending in Qingdao during the three-day May Day holiday this year surged 19.22 percent year-on-year to 7.32 billion yuan.
"The hot season for traveling to Qingdao has come earlier this year because of the summit," Cui said. "We expect the number of inbound tourists will see explosive growth."
He said the city is working to increase its competitiveness as an international tourism destination.
Last year, foreign tourists visited Qingdao 1.44 million times, 2.4 percent more than in 2016.