Badly behaved fans a danger to one and all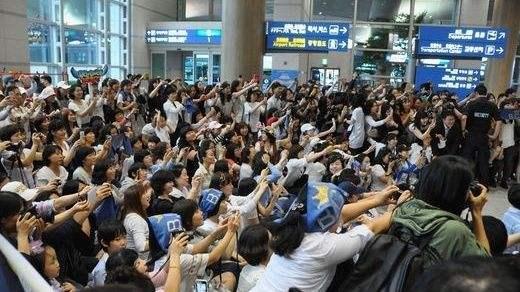 On May 7, about 20 fans of an entertainment star tried to follow the star all way long from the waiting room into the plane in Shanghai Hongqiao Airport, which interrupted the normal flight order and caused a two-hour delay. Beijing News comments:
It is true that idolizing stars is not uncommon and fans want to get up close to their idols, but that should not mean endangering public safety.
Reports show that some of the fans rushed to board the plane without ever checking their boarding pass and it took quite a number of airport employees to restore order. As a result, the flight was delayed for two hours.
Worse, when the fans boarded the plane, they moved, in groups, from the economy class to first class, trying to meet their idol. That caused chaos inside the plane.
This is not the first time that starstruck fans have caused such trouble. There have been similar problems before.
Some might argue that one has the right to be a fan. However, that does not entitle people to disturb public order and pose a threat to the safety of others. By causing chaos in the airport, even on the plane, these fans put the lives of other passengers and the crew at risk. They should be punished to deter others from behaving in such a manner.
Actually, the law on civil aviation says that those intentionally causing serious chaos in airports should face criminal charges. Even if their deeds are not so serious, they should be given public security penalties, which range from fines up to 500 yuan ($78.5) to five to 10 days of detention.
Further, it is advisable to consider putting certain fans that repeatedly cause chaos in the airport or flights onto a black list and preventing them from purchasing tickets. That's quite a mature practice in developed countries, and domestic high-speed railway companies have already adopted that. Only by setting limits upon the behaviors of rule-breakers will the authorities be able to effectively maintain order.
Most Viewed in 24 Hours
China stories