Let elderly enjoy lives free of child care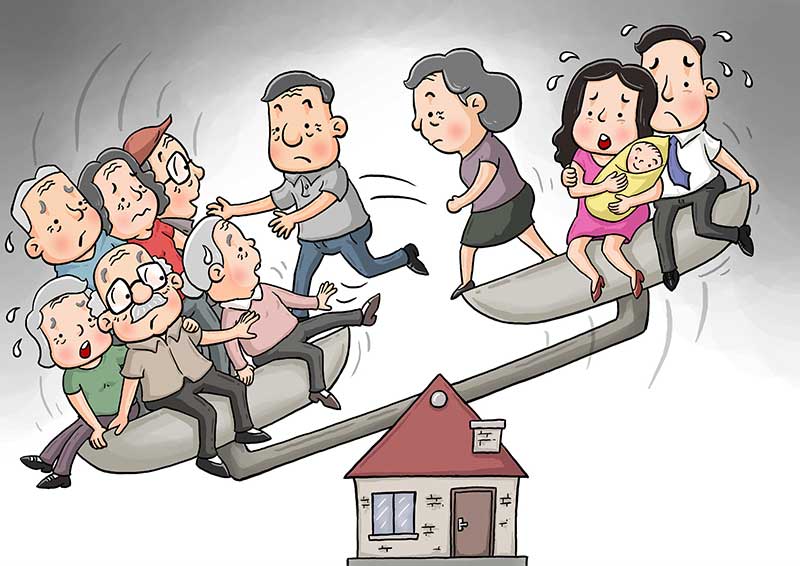 Data released by the National Health Commission show nearly 18 million senior citizens live with their children and act as nannies for their grandchildren, far from their own homes. Legal Daily comments:
The government is obliged to take better care of senior citizens, as it is more than just personal choice that sees them act as carers for their own children's children. It is also the result of the lack of necessary public goods and services.
Many do not have a sense of belonging in the cities where their children live. Their lives are almost completely restricted to supermarkets, kitchens and their bedrooms. Many of them count the days when they can return to their own homes.
Moreover, they cannot get reimbursement for their medical care bills, which is covered by the medical insurance of their hometowns, so many of them choose to conceal their illnesses and wait to seek treatment after going back home.
Like it or not, they leave home to take care of their grandchildren mainly because the couple cannot afford to hire babysitters or send the children to kindergartens-the public kindergartens only accept children who are three years old and the private ones cost thousands of yuan a month. If the parents do have not local hukou (household registration), they cannot secure a place for their children in public kindergartens at all.
The 18 million elderly babysitters, most of whom receive no payment for their work from their children, should remind the government, which encourages couples to have two children, of the necessity of lowering the cost of bringing up children in cities.
For instance, there should be more affordable kindergartens for local residents, including the migrant workers.
Families caring for their young children deserve government subsidies, in forms of, say, tax rebates or direct financial aid. Just changing the family planning policy so all couple's can have a second child is far from enough to boost the fertility rate.
This would also enable the so-called drifter elderly to enjoy their golden years.
Most Viewed in 24 Hours
China stories