Woman's dream comes true at 97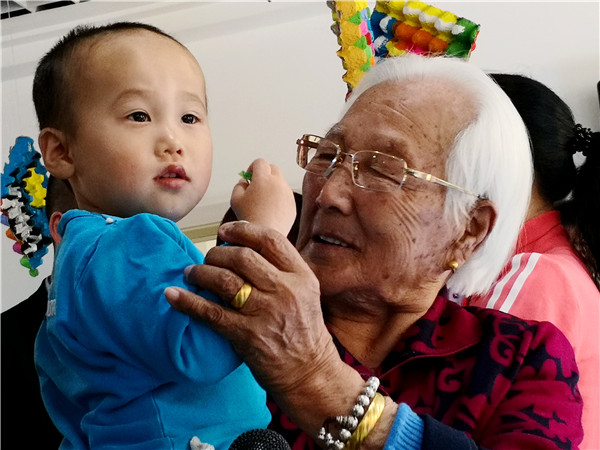 Shop the second business Jiang Naijun has started from scratch since retiring in 1987
Jiang Naijun, a 98-year-old supermarket operator in Changchun, capital of Jilin province, visited the local children's welfare house on May 8 to donate 10,000 yuan ($1,570).
Since opening the 97 Supermarket last year, she has donated about half the small business' profit to the public.
"I gave it the name 97 because I realized my dream at the age of 97," she said. "It was really significant. Half of the profit will be used for daily expenses and the rest will be sent to those in need."
The supermarket is the second business she has started since retiring from a cotton mill in 1987, when she was given the opportunity to leave the job to one of her children.
"I still remember that my salary was 18 yuan a month at that time, which was barely enough for daily life," she said. "None of them was willing to take the job, and I didn't want to force them."
To maintain the family, they needed to find another way to make a living.
After trying some small businesses with her three children, Jiang noticed that demand for copper logos was rising rapidly but there were few competent manufacturers.
In the early 1990s, she decided to open a small workshop to produce copper logos.
"It was really hard at that time," she said. "We had only some basic tools, such as a hammer, scissors and pincer pliers. Worse still, none of us had mastered the techniques, and we didn't even have enough money to buy raw materials."
But such difficulties could not stop the family.
Jiang made a clear division of labor among the family: Her daughter and two sons were in charge of external business while she took responsibility for management, supervision and logistics support.
Her eldest son, Lin Xisen, bought some surplus copper logos cheaply and, after repeatedly disassembling and assembling them, discovered how they were produced.
He also learned production techniques from experienced craftsmen and independently developed some machines to make production more efficient.
"No matter what happened, we never changed the high standards of product quality and reputation," Jiang said. "Fortunately, we persisted and achieved success."
In 1994, the factory moved into a new 3,000-square-meter plant and began upgrading its product range.
Jiang retired from the business in 2000, and passed it on to her children. Four years later, her eldest son set up a company, Lintianyuanda, to produce souvenirs, logos and sculpture crafts.
With more than 500 employees, its annual output is now worth 100 million yuan and it produces logos for famous automobile brands such as Mercedes-Benz, BMW, Toyota, Volkswagen and Lincoln.
"The company had developed quite well under the management of my children, and I wanted to do more for society," Jiang said. "Nobody could stop a 97-year-old senior from learning or starting a business. I really wanted to try something new.
"I have dreamed of opening a small supermarket for many years. After communicating with some young employees in our company, I decided to seek crowdfunding for the business."
That meant starting from scratch, for a second time, at age 97.
After several months' preparation, she gathered 20,000 yuan from 50 investors and started the 97 Supermarket in July. She is on duty at the supermarket every day, can easily find the goods her customers need, and is skilled in using mobile payment and point-of-sale terminals.
"Even if it is identified as a micro-profit one, the business is developing well," she said. "Besides the donations, the supermarket can also provide food and daily and school supplies to poor families and their children. It's never too old to start your dream and I will keep forging my way until I can't move."