Playing Taiwan card will sour Sino-US ties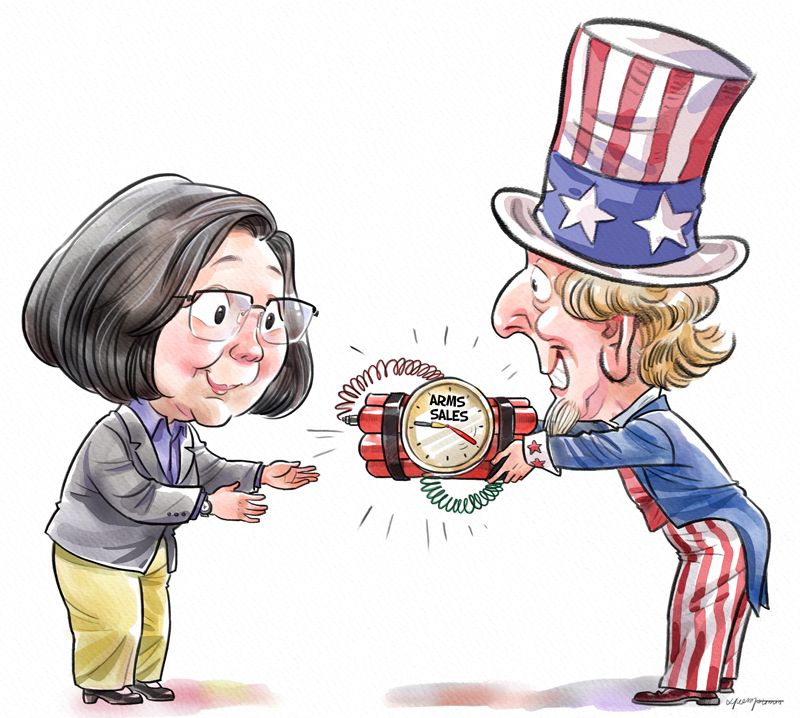 Editor's note: A "US-Taiwan defense sector forum" was held in Kaohsiung on Thursday amid the US Congress' review of the 2019 National Defense Authorization Act which aims to "strengthen US-Taiwan military exchanges". Three experts share their views with China Daily's Yao Yuxin on how such "exchanges" undermine the Three Joint Communiqués and will sour Sino-US ties. Excerpts follow:

Blatant interference in China's internal affairs
It is the quality, not the quantity, of the weapons and arms technology that Washington sells to Taiwan that is especially worrying.
At a time of uncertain Sino-US relations owing to the two countries' trade and geopolitical frictions, that the US may transfer submarine technology to the island is a sign that it could sell more advanced arms to Taiwan. This, along with the upgrading of the "Taiwan Travel Act" in March that allows mutual visits of officials at all levels between Washington and Taipei, is a disturbing sign of the US' interference in China's internal affairs. Moreover, there are fears that the United States could even sell F-35 jets to the island.
Since the Donald Trump administration sees Beijing as a strategic rival and does not want Washington to lose its global supremacy, the US administration is unlikely to alter the existing framework of the Taiwan Relations Act to terminate arms sales to Taipei in accordance with the Sino-US Joint Communiqué of Aug 17, 1982. And that's why, despite its repeated assertion that Taiwan is an inalienable part of one China, the US keeps taking provocative actions against China.
So Beijing should be prepared to reunite the island with the motherland, by force if needed, while trying to improve cross-Straits relations.
Move serves US strategy to contain China's rise

Washington's weapon sales and technology transfer to the island are a politically and strategically motivated move, not a pure economic activity, as it serves the US' strategy of containing China's rise and maintaining the status quo across the Straits-as opposed to reunification of the island with the motherland.
The US is selling Taiwan weapons and technologies that are very expensive. In addition, the sales of such weapons and technologies are not one-off transactions. Since they require a series of after-sales maintenance, including supply of spare parts, upgrading and training for the island's personnel, they give the US the opportunity to be perennially involved in Taiwan's "combative affairs".
The US claims its Taiwan Relations Act, which has governed US arms sales since 1979, is "superior" to the Sino-US Joint Communiqué of Aug 17, 1982, in which the US declared its intent to gradually reduce its sale of arms to Taiwan. Although such arguments are baseless, it is difficult to make the US change its practice.
Therefore, China should avoid confrontations and, instead, make more efforts to bridge the gap with the US in terms of economic and military power, so that it is in a better position to bargain with the US to protect its national interests.

US won't cross redline by upgrading sales
As the Chinese mainland holds military supremacy over Taiwan, many worry the US may sell more sophisticated arms and technologies to the island. In fact, arms sales are more of a signal to boost confidence of "pro-independence forces" and then use them as a counterbalance against Beijing's rising economic and strategic prowess.
However, since Washington can always control its arms sales to Taiwan, the Trump administration is unlikely to cross the redline and push the US into a possible regional conflict just to protect Taiwan.
But Washington will not stop violating the Sino-US Joint Communiqué of Aug 17, 1982, until the big gap between US and Chinese militaries is narrowed.
Most Viewed in 24 Hours
China stories