Beijing urges Mideast sides to use restraint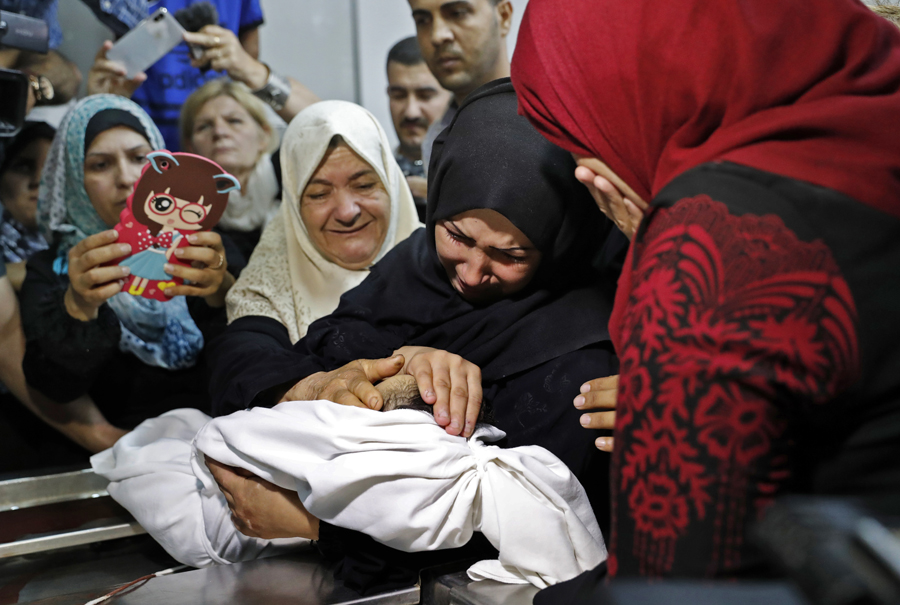 China called on Tuesday for both sides, especially the Israelis, to show restraint and avoid further escalation of tensions after more than 50 Palestinians were killed and over 2,700 injured on Monday in clashes with Israeli forces on the border between Israel and Gaza.
On Monday, tens of thousands of Palestinians launched demonstrations to protest the United States moving its Israeli embassy from Tel Aviv to Jerusalem.
"China expressed serious concern over the heavy casualties caused by the violent conflicts," Foreign Ministry spokesman Lu Kang said. "We are opposed to violence against civilians, and called for both Palestine and Israel, especially the Israeli side, to show restraint, and avoid further tension and escalation of the situation."
Due to the complexity and sensitive nature of Jerusalem's status, Lu said, China has always believed that peace talks between Palestine and Israel should be resumed as soon as possible according to resolutions of the United Nations, and the issue of Jerusalem's status should be resolved through dialogue.
The status of Jerusalem is one of the core issues of the Palestine-Israel conflict, involving national and religious feelings.
Lu reiterated China's support for Palestinians to resume their legitimate national rights and interests, and support for Palestine in establishing an independent state with full sovereignty based on the 1967 border through negotiations under a two-state solution.
Li Guofu, an expert on Middle East studies at the China Institute of International Studies, said US President Donald Trump's reckless and hasty decision to move the embassy has intensified the already tense situation in the Middle East.
Tuesday, a day after the US held a festive ceremony launching the new embassy in Jerusalem, Palestinians marked their annual Nakba, or "catastrophe", which commemorates the more than 700,000 Palestinians who fled or were expelled from the areas that became Israel in the 1948 war.
"It will take a long time for Palestine and Israel to establish mutual trust and solve the Palestinian issue through negotiations," Li said.
Zhou Jin contributed to this story.