General strike held in West Bank, Gaza after deaths of 59 Palestinian protesters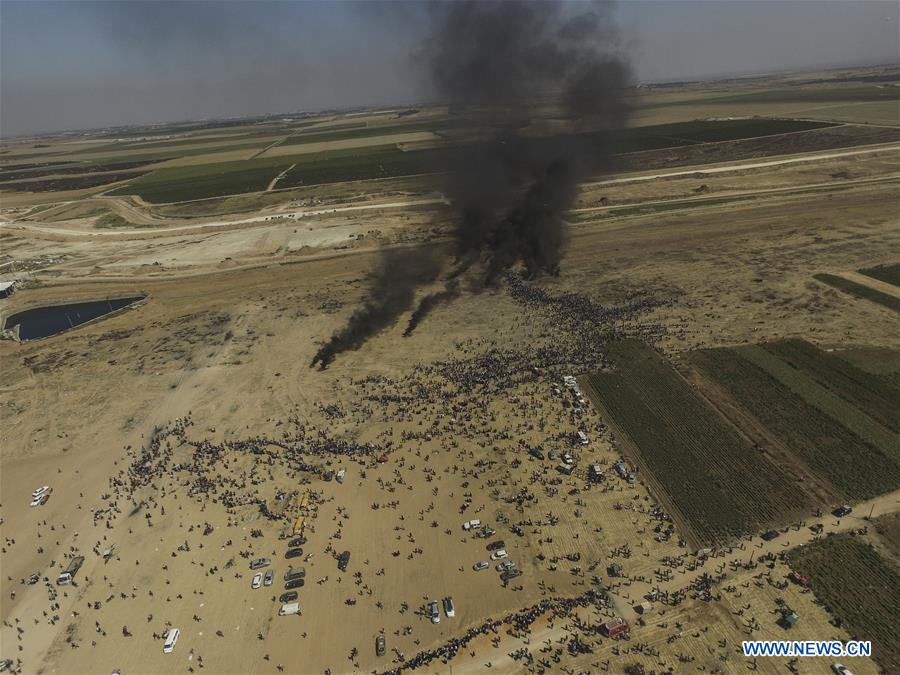 RAMALLAH/GAZA - The West Bank and the Gaza Strip observed a general strike on Tuesday, after at least 59 Palestinians were killed by Israeli forces in mass rallies on Monday.
The strike comes as the Palestinians commemorate the 70th anniversary of the Nakba Day, or "the Day of Catastrophe," when two thirds of the Palestinians were forced to leave their hometowns as result of the 1948 war.
The strike has paralyzed all public and private institutions, including schools and financial institutions, in response to the call of Palestinian President Mahmoud Abbas Monday night.
Funeral processions of Palestinians killed in the protest are also expected to take place Tuesday, before the beginning of the marches of Nakba.
In the West Bank, the demonstrators are planning to take to the streets at the same time when the funerals in Gaza take place. The protesters are expected to hold 59 lanterns in memory of those who were killed in Gaza.
The mass protest held on Monday was to oppose the opening of US embassy in Jerusalem on the same day, following the decision of US President Donald Trump last December to recognize Jerusalem as the capital of Israel, a move that has sparked an international outcry.
Abbas condemned the US embassy opening, describing it as "a settlement outpost" in East Jerusalem.
The Palestinian president also called for a mourning day on Tuesday for the Palestinian victims who were killed by Israelis in Gaza.
Abbas addressed a leadership meeting Monday evening in his West Bank headquarters in Ramallah city, saying "what we saw in Jerusalem today was not the opening of an embassy, but the opening of a US settlement outpost."
Following meeting, it was announced that the Palestinians have requested an urgent UN Security Council meeting to address the Palestinian demand for international protection for the Palestinians and the killing of dozens of Palestinian protestors in Gaza.
Senior officials also revealed that Abbas has signed to join three international agreements out of 23 that the United States has formerly requested Palestinians not to join, in response to the US embassy move.
The officials did not unveil which three agreements Abbas has signed.
Secretary General of the Palestine Liberation Organization (PLO) Saeb Erekat said that the Palestinian leadership decided to file a legal case against Israel with the International Criminal Court (ICC) over the settlement activity on the occupied Palestinian territory.
He added that the leadership also decided to limit relations with Israel and implement the decisions of the Palestinian National Council held last April.
The bloody march in Gaza on Monday has raised the death toll, since the beginning of the "Great March of Return" on March 30, to 108.