Around the world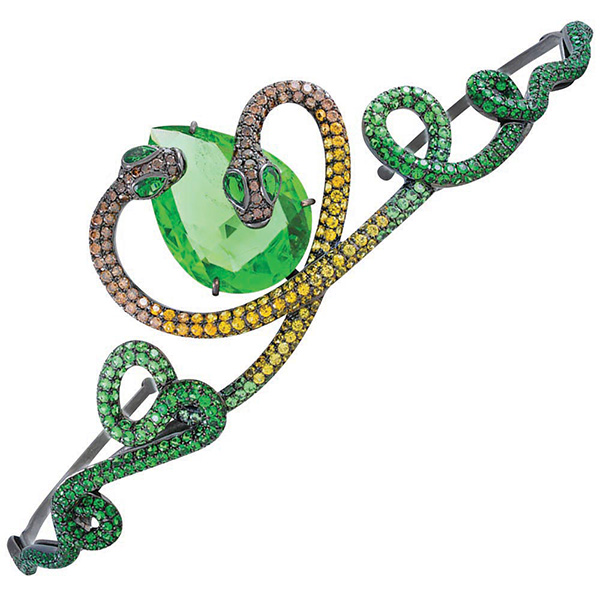 When Lydia Courteille created her brand in 1987, she initially focused on antique jewellery. After collecting and selling some 7,000 vintage pieces, she turned her hand to jewellery design. For more than 30 years, her haute joaillerie collections – each piece unique and quietly provocative – have been displayed with theatrical flair in her shop on the Rue Saint-Honoré in Paris. She counts global celebrities among her fans, including Madonna, Karl Lagerfeld and Nicole Kidman.
So how often do you introduce a new collection?
I create a collection with a new theme every six months. Each one comprises around 30 unique pieces.
Your Rosa del Inca collection, presented last January at the haute joaillerie event of Paris Fashion Week, was your 57th. Where do you get your boundless inspiration?
Travel inspires me enormously. This collection is a tribute to rhodochrosite, the national stone of Argentina, which I discovered during a trip there; the Argentines call it Rosa del Inca. I was inspired by the different civilisations that have left their mark on the country's history – the Mapuche, the Inca and, much later, the Spanish. The history, the folklore, the colours, the fabrics, the animals and the plants that I discover during my travels are inexhaustible sources of inspiration.
My previous collection, Un Automne à Pékin, was inspired by my visit to the Forbidden City when I was in the Chinese capital for an exhibition at Lane Crawford. There are lots of feng shui references, with grasshoppers, frogs, dragons and fish – animals that symbolise luck, wealth, prosperity and longevity.