Travel perks help Tibet work wonders
Share - WeChat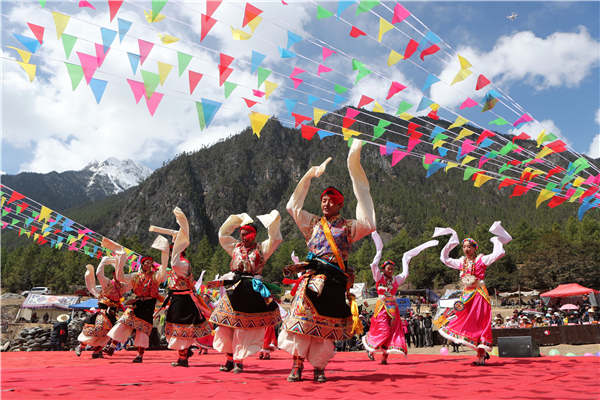 A total of 26 major scenic spots, with the exception of Potala Palace but including Jokhang Temple and Norbulingka Summer Palace, will continue to offer a 50-percent discount on their entry tickets.
Zhang Ying is just one of the beneficiaries from Tibet's booming tourism industry.
The operator of a private inn in Lhasa, Zhang has seen occupancy rates at her hotel rise by 20 to 30 percent over the winter period.
This prosperity has also encouraged more local farmers and herdsmen to get in on the action and boost interaction among the various ethnic groups in the region.
In Nyingchi, the Deng (Mishmi) people are giving up working as farmers in their hereditary homeland to work as managers at scenic spots in the area.
More than 700 locals have joined the cast of the Princess Wencheng outdoor show in Lhasa, while more than 400 people from 24 villages surrounding the Qomolangma (Mount Everest) scenic area are now making a living from running family hotels, offering yak transportation services or selling artifacts.
By the end of 2017, more than 125,000 local people were involved in the tourism-related businesses, providing them with an average per capita income of around 12,000 yuan.
The Tibet tourism development commission has been working with the Lhasa government to jointly roll out travel products featuring distinctive Tibetan homestays, where visitors can enjoy unique local customs and cuisine.
Folk performances, campfire parties and equestrian shows will also be staged to spice up the travel experience across Tibet during peak travel seasons.
At the same time, the region is also introducing innovative new tourist services to draw in more visitors.
Three helicopter sightseeing routes departing from Lhasa to the Namtso and Yamdrok lakes have opened up. A tourism route that covers eight counties and districts in the north of the region will also be developed later this year.
A total of 10 tourism culture commodity exhibition centers and a handful of villages featuring ethnic handicraft art are planned to be built in the near future.
These measures are all part of a plan by local tourism authorities to transform Tibet into a year-round travel destination to match any other in China.