Chinese musicians enthrall on tour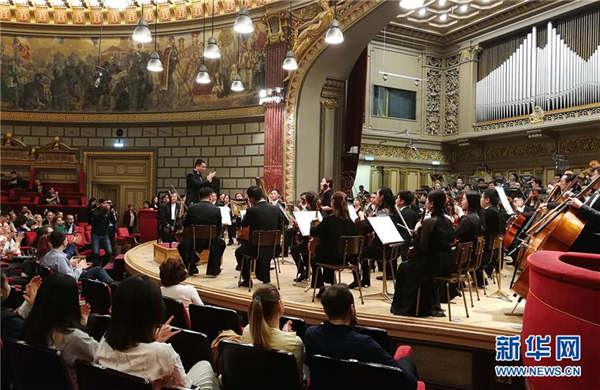 Applause and loud cheering greeted the finale of a third encore as the audience in Bucharest's Athenaeum Hall showed their appreciation for the April 23 performance by the Hangzhou Philharmonic Orchestra.
As part of its tour across southeastern Europe that includes Greece, Bulgaria, Serbia and Romania, the Hangzhou Philharmonic mesmerized the Romanian audience with The Flying Dutchman Overture, The Butterfly Lovers violin concerto and Rachmaninoff's Symphonic Dances Op 45.
So enraptured by the music and the performance, the audience urged the recital of three more pieces from the east China orchestra: one by Paganini and two Chinese classical compositions.
A combination of touching solos by violinist Ning Feng and a powerful orchestral performance, conducted by Yang Yang, held the audience in thrall.
The Butterfly Lovers violin concerto was particularly well received. Although the love story it depicts is sad, the music was acclaimed by some in the audience as "marvelous and breathtaking".
"This concert has been medicine to my soul, they are exceptionally good and it's amazing that such a young orchestra, only nine years since its creation, is so skillful," says Romanian musician, conductor and professor of music, Nicolae Racu, who has been playing Chinese classical music for the past 40 years.
Racu adds that the young Chinese orchestra has already garnered a venerable reputation due to its depth of talent.
During the concert, exclamations of "bravo" and "incredible" could be heard emanating from various areas of the hall, with one concertgoer, 50-year-old biologist, Mariana, describing the performance as "powerful and awesome," adding that she was impressed with "the Chinese sensitivity" for the music.
Yang says: "We came to southeastern Europe because we know the region has a very rich tradition of classical music and the reaction of the audience confirmed my expectations."
Violinist Ning notes that one of his inspirations is his Romanian counterpart, the late Ion Voicu.
"It's an honor for me to come here, because when we studied music, we were deeply influenced by the music from southeastern Europe."