4th span of Bangladesh's Padma Bridge installed successfully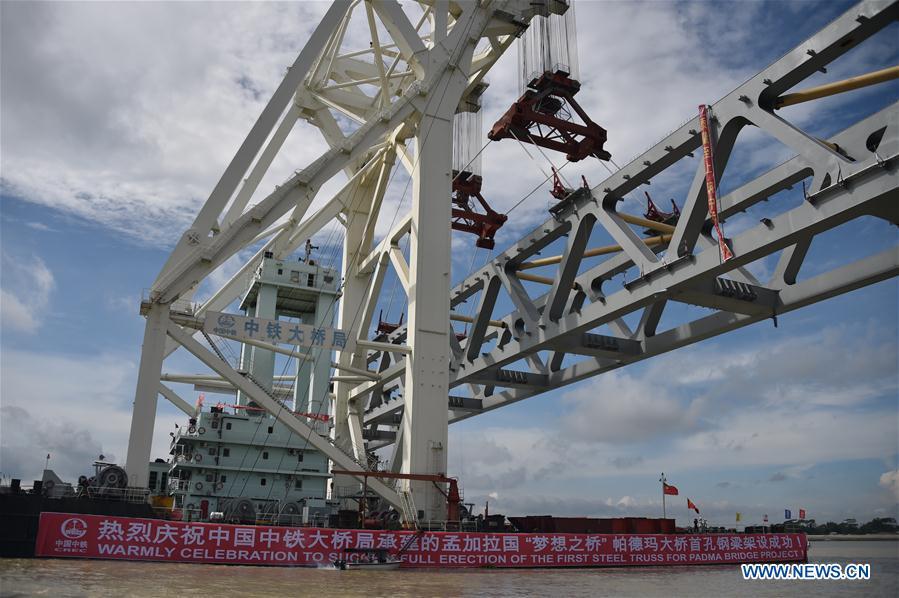 DHAKA - Chinese engineers on Sunday morning successfully installed the fourth span of Bangladesh's Padma Bridge.
The 3,140-ton span was placed between pear-40 and pear-41.
Bangladeshi government officials among others witnessed the installation process at a site of the bridge.
With the installation of the span, the fourth span among the 41 spans to be installed on the 6.15-km bridge, 600 meters of the bridge is now visible.
It took about one hour for the engineers of the China Major Bridge Engineering Company to successfully complete the installation work of the 150-meter long span starting at 7:00 am local time.
The first, second and third spans of the bridge were installed on Sept 30 last year, Jan 28 this year and March 11 this year respectively.
In December 2015, Bangladeshi Prime Minister Sheikh Hasina inaugurated the main works of Padma Bridge project, the biggest of its kind for the country, by unveiling its foundation plaque.
Bangladesh last month signed a nearly 3-billion-US dollar loan deal with China's Exim Bank to construct the Padma Bridge rail link. The 215-rail link will pass via Padma Bridge.
In June 2014, the Bangladeshi government awarded China Major Bridge Engineering Company Limited a 1.55-billion-US dollar contract to build core structure of the Padma Bridge project.
Apart from connecting nearly 30 million people in Bangladesh's southwest region to the rest of the country, the bridge will enhance regional trade and collaboration along the Asian highway No 1 and the Trans-Asian railway network.
The bridge is among the eight projects that are under direct supervision of the Fast Track Project Monitoring Committee headed by the prime minister.
The bridge is expected to be completed in the second half of next year.