Tea-sealing tradition gets a new lease of life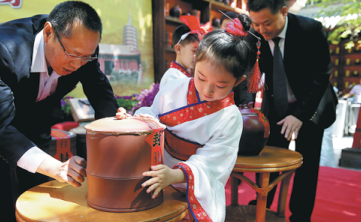 One legend says that the process of sealing tea and letting it age began after Emperor Qianlong (1711-99) visited Hangzhou in Zhejiang province.
But there are those who say the tradition is much older.
Zhou Fan, director of the ancient tea institute at the Chinese Tea Culture Research Institute, says: "The tradition actually has a history of more than 1,000 years, and began in the Tang Dynasty (618-907).
"In the Qing Dynasty (1644-1911), a ceremony (for the sealing) would be held on an auspicious day."
According to Zhou, the last recorded imperial tea-sealing ceremony was held in 1909 at the Temple of Heaven in Beijing.
Now, over a century later, the custom is being revived. And, on May 3, a special tea-sealing ceremony for Anhua dark tea (produced in Anhua county of Hunan province) was held in Badachu Park, Beijing, as part of the 17th Badachu China Garden Tea Cultural Festival & Anhua Dark Tea Cultural Week.
Zhou says: "Sealing liquor, food and tea are traditional in China. And the tea or liquor then ferment, leading to the presence of probiotics that are good for health."
As part of the recent ceremony, a boy and a girl sealed two pots of Anhua dark tea with mud, and a calligrapher wrote on a piece of red paper that was used as a seal.
Zhou says that in the old days the tea would be kept sealed for about two decades to obtain the desired results, but now the same results can be achieved within three to five years.
"Earlier pottery was used to preserve the tea, but then porcelain became popular," says Zhou.
"We would like to further develop the technique."
Anhua dark tea was used as a tribute in the Ming Dynasty (1368-1644).
Xiao Weiqun, vice-president of the Hunan Tea Industry Association, hopes that sealed Anhua dark tea can become a sought-after product in the future.
liyingxue@chinadaily.com.cn