Rail links make Xiamen key in B&R Initiative
Xiamen, a port city in East China's Fujian province, has emerged as a transportation pivot bolstering the Belt and Road Initiative.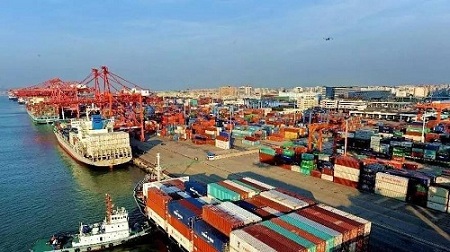 By now the city has launched five freight train services to European countries including Germany, Russia and Hungary.
Since the launching of services on Aug 2015, the routes have become some of the busiest cross-border rail links in China.
The statistics from the Xiamen Municipal Bureau of Inspection and Quarantine show that as of March 29, a total of 238 trips with 7,625 containers have been made via the lines, with goods valued at 4.084 billion yuan ( $650.5 million).
Originally predominantly from Fujian, the clients the rail services now have cover Guangdong, Zhejiang, Taiwan as well as Southeast Asian countries.
First, the goods from Taiwan and Southeast Asian countries are shipped to Xiamen by sea and then loaded onto the rail expresses to Europe, a great drop in travel time when compared with transporting the goods wholly by sea.
The shipments also have the widest variety coverage over the past years. In addition to the electric products, light industry products, clothes, shoes, food, beverage and construction materials, commodities like sports goods, computer parts, textiles, auto parts, fitness equipment have also been added.
Meanwhile, on their return trips, the trains bring back products from Europe such as food, beverages and logs.
Railway has replaced air cargo, in Xiamen, to be the second largest mode of transportation in exporting, because of the rail links to Europe, local officials revealed.
As a crucial node on the ancient marine Silk Road, Xiamen has long been renowned for its flourishing overseas trade.
In 2017, Xiamen Port maintained its growth momentum despite a general slack picture in the global industry. The port's throughput hit 10.38 million TEUs in the year, ranking 14th in the world.
Nowadays, the sea-rail combined transportation has enabled Xiamen to exert an increasingly important role in connecting China with the countries involved in the Belt and Road Initiative, local officials said.
First proposed in 2013, the Initiative is a national key project aiming to build a trade and infrastructure network connecting Asia with Europe and Africa along ancient trade routes.