All roads lead to Xinjiang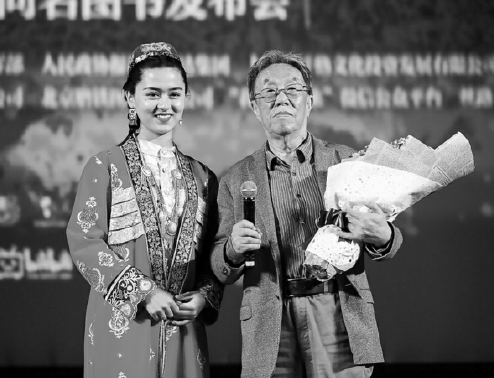 Director and producer Kurbanjan Samat says I'm Going to Xinjiang, which is also a follow-up to his 2016 serial documentary I am from Xinjiang on the Silk Road, is a tribute to a couple who opened his eyes and cultivated his passion for making documentaries.
"If it wasn't for them (who Kurbanjan affectionately calls his 'godparents'), I would not have left Xinjiang and come to Beijing, and I would never have become a filmmaker," says the 36-year-old, who inherited his family's jade business before shifting to making documentaries in 2005.
The director hopes the two seasons of the Xinjiang-themed documentary franchise will change people's perceptions about Xinjiang, a region which he regards as more than just an exotic, remote area with breathtaking scenery and delicious food.
Taking an emotional look at the lives of the protagonists past and present, the forthcoming documentary features interviews with people who hold a deep affinity for the diverse region, including novelist and former minister of culture Wang Meng, textile tycoon Marjorie Yang and volunteer orthopedist Peng Xiaochun.
Wang, who lived in Xinjiang from 1963 until 1978, recalls he was once told that Xinjiang's living conditions were considered too harsh for his family to accompany him.
"But they didn't realize that life there could also be interesting, inspirational and fulfilling. I spent possibly the happiest period of my life there at a time that was hard to be happy in," says Wang.
He adds that the documentary also showcases the progress and development of Xinjiang, which is a story of hope in itself.
As one of the earliest Hong Kong entrepreneurs to expand their business to Xinjiang, Yang, chairwoman of the Hong Kong-based textile and apparel manufacturer Esquel Group, decided to set up a factory in Xinjiang in 1995, bringing jobs and advanced technology to the region.
In a trailer released during the event, Yang says that going to Xinjiang was the most important decision of her entire life.
Besides the celebrities, many other people also shared their stories of life in the far-flung region.
Peng, a Shanghai native in his 30s, chose to join an 18-month-long Aid-Xinjiang volunteer program to work in a hospital in Kashgar, an oasis city in Xinjiang's southwest .
Although he had to bear long periods of separation from his wife and two daughters, the young orthopedist says working in Xinjiang was a rewarding experience, especially when he saw patients who arrived at the hospital in wheelchairs leave on their own two feet.
Other than the Chinese protagonists, several foreigners also feature in the series, such as a South Korean hairstylist, a German restaurant owner and a young Pakistani studying medicine.
"No matter why you decide to come to Xinjiang, you will find another way of improving yourself when you arrive. You will also be able to witness the region's development," says the director.
Kurbanjan also unveiled that preparation of the third season of the Xinjiang documentary franchise, Best Delicacies, is scheduled to begin in June, which will examine the diversity of Xinjiang culture by exploring the local cuisine.
Contact the writer at xufan@chinadaily.com.cn