Bolstering China's voice in the world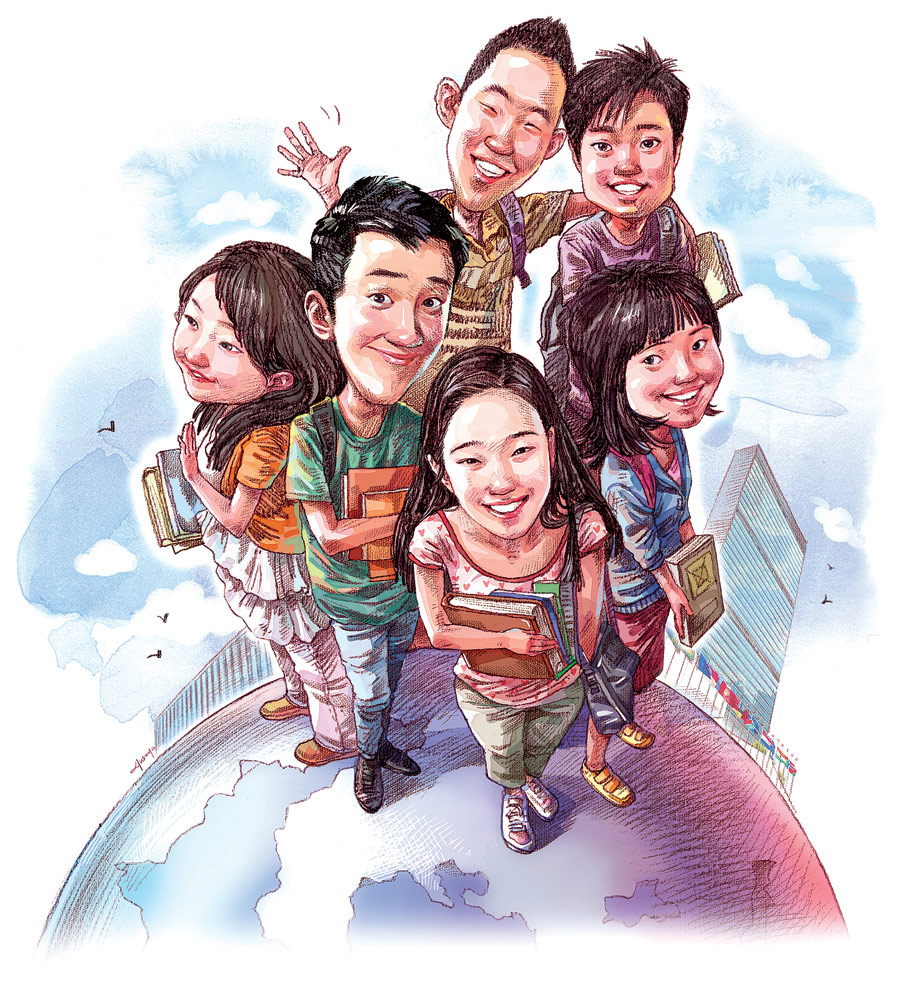 Universities in the country are offering students a chance to gain work experience in international organizations as the nation aims to better express its ideas to its peers
For Fang Xidong, her three-month internship at the United Nations International Trade Center (ITC) in Geneva has gifted her a worldlier perspective.
Assigned to the independent evaluation office of ITC's strategic development department, Fang's job largely revolves around evaluating the projects carried out by the organization and summarizing their achievements.
"Like most interns, reading a wide variety of reports is part of the job there," said the 24-year-old, a graduate student in international business at Shanghai University of Finance and Economics (SUFE).
"This job has presented to me a more colorful world. I used to only follow the news coming out of countries like the United States, the United Kingdom and Australia."
Through this internship, Fang, who also has a degree in finance from Queen Mary University in the UK, has learned about Colombian cocoa beans exports, the manufacturing of Moroccan canned seafood and the type of economic assistance women in developing countries are receiving.
"Everyone at ITC is devoted to making the world a better place and I'm grateful for this opportunity to work here and learn more about the world," she said.
Fang is among the 100 students from a SUFE program launched in 2015 that provides participants with the chance to study in five overseas universities affiliated with SUFE, such as the University of North Carolina at Charlotte and George Washington University, as well as intern at international organizations or institutions related to foreign affairs.
Most of the expenses related to the program, such as tuition fees, scholarships and meals, accommodation and medical insurance, are sponsored by the China Scholarship Council.
"The program aims to educate finance, commercial and legal professionals who can express Chinese ideas on a global stage," said Li Jinsong, deputy dean of the postgraduate school at SUFE, adding that these ideas could help resolve the world's problems with a Chinese perspective.
"We will expand our cooperation with more universities and organizations to provide students with more internship opportunities in the future," he said.
Fang said that while working in such a multi-cultural environment can be a challenge, her knowledge of international economics, politics, law and research methodology which she picked up during her senior year at SUFE has helped her to find her feet with relative ease.
"In terms of my career, I will first find a job in a large multinational company, laying the foundation for my dream to work in international organizations where professional working experience is a must for candidates," said Fang, who is currently preparing her graduation thesis in Shanghai.
Like Fang, 23-year-old graduate student Zou Nan has also recently completed her four-month internship at the International Finance Corporation (IFC), a member of the World Bank Group in the United States.
In her role, Zou is responsible for the collection of data on relevant indicators and the assessment of the projects for over 100 developing member countries of the World Bank Group.
"I was very nervous at first because I knew little about developing countries and the meaning of most of the indicators used in the reports," said Zou.
"But I managed to learn on the job quickly and the knowledge gained from this program has proven to be very useful."
Liang Guoyong, an official at the United Nations Conference on Trade and Development, said adaptability is a key trait that students should have when working in international groups.
"International organizations have a multilingual and cross-cultural working environment. Requirements vary in different organizations and positions. What interns need is excellent professional skills and the ability to adapt," said Liang.
Stringent selection process
Candidates aiming to be a part of the three-year program have to meet the high standards set by SUFE.
Rong Jun, deputy director of the international exchanges and cooperation department at SUFE, said that candidates are required to undergo Chinese and English written tests, seven rounds of interviews on various topics not limited to finance, law and international relations, and perform prepared and impromptu speeches. Their grades are also taken into consideration.
The 20 to 40 students selected for the program will then have to take extra classes for knowledge on international groups and learn a third language, excluding Chinese and English.
"It's truly a tough challenge for them to acquire a third language like French, Arabic or Spanish, within a year," said Cheng Qian, professor at the foreign language institutes at the university.
"But this is important as they might need to communicate with others in a different language during their internships."
The first year of graduate study will begin at foreign universities, during which students will be provided with internship opportunities in overseas international organizations or institutions like the United Nations, the World Bank and the Inter-American Development Bank.
The second year involves dissertation writing back in China. Students may also apply for internships at the Chinese branches of international organizations or institutions, such as the BRICS bank and the Asian Infrastructure Investment Bank.
Students who successfully graduate from both domestic and foreign universities are awarded a double Master's degree.
The program has been well-received by universities and organizations.
"The students have always put forward good thoughts," said Chan Soon Huat, director of the Master of Science in Applied Finance Programme at Singapore Management University. "I am surprised at how professional Chinese students are during their time here."
Xu Jianjun, an official at the international promotion and cooperation department of the Inter-American Development Bank, said Chinese interns are well-equipped with strong business, learning and communication skills, and can easily adapt to the international environment.
"As our first cooperative project with universities in China, the program plays a vital role in demonstrating how the cultivation of Chinese talents for international organizations can be done," said Xu.
A national initiative
Since launching the project to nurture talent suited for international organizations in 2014, a steady stream of Chinese have worked in international bodies such as the United Nations High Commissioner for Refugees and the International Telecommunication Union.
According to the Ministry of Education, Chinese students started interning at the United Nations Educational Scientific and Cultural Organization in 2015. Among this group of interns, four were employed by UNESCO and the International Court of Justice, the principal judicial organ of the United Nations.
Like SUFE, the Beijing Foreign Studies University has since 2015 also been grooming talent with excellent foreign language and intercultural communication skills. The university has established the Institute of International Organizations, the Silk Road Research Institute and the International Organizations Research Center to help students better understand foreign countries.
Meanwhile, Renmin University of China has set up an information network offering basic knowledge on international groups. It also regularly organizes a series of seminars to encourage further learning in this area.
The graduate institute of translation and interpretation at the Shanghai International Studies University has been a key player in training translators and interpreters for international organizations.
Students at the university can major in any of the six official languages used in the United Nations.
Other institutes of high learning, such as Tsinghua University in Beijing and Fudan University in Shanghai, are currently teaching students management abilities in a global environment.
This national strategy to cultivate talents for international organizations should be given priority by more universities, said Pu Ping, professor at the institute of international relations at Renmin University of China, during the forum on international organization talent cultivation last year.
Good curriculum design for third languages, international relations and law is essential to achieving this goal, Pu said. More opportunities, be it internships at international groups or volunteering at global conferences, should also be provided.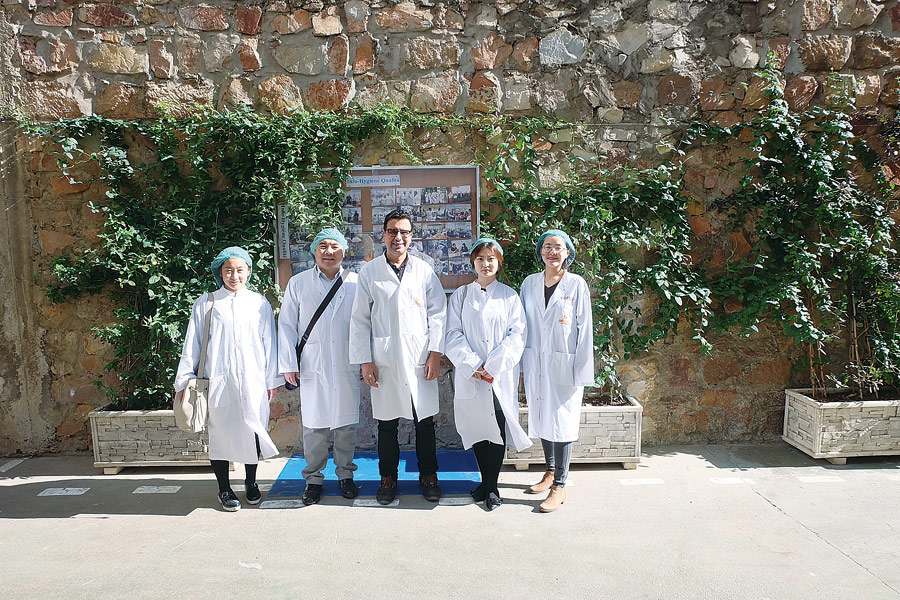 Today's Top News
Editor's picks
Most Viewed