116 killed in India storms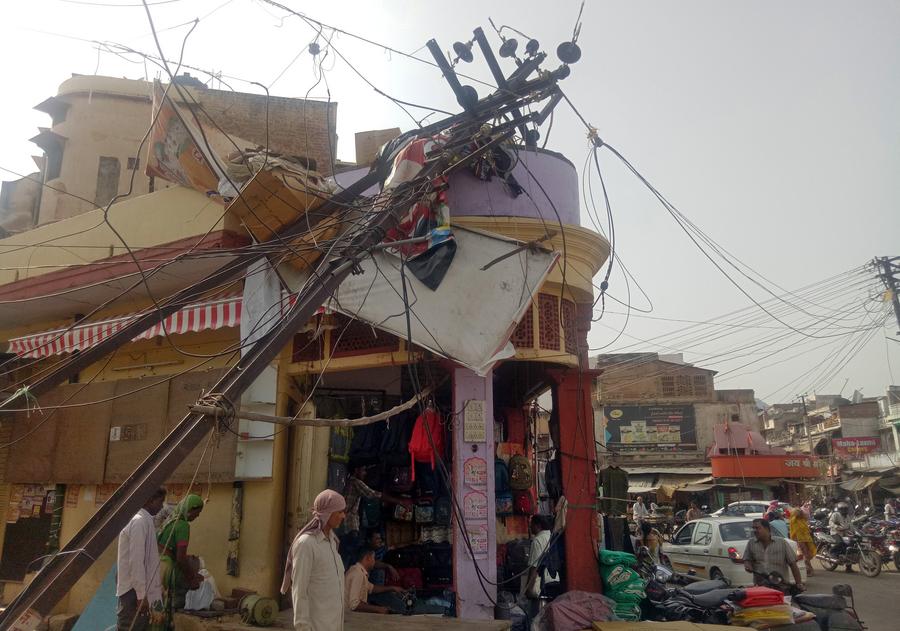 AGRA, India - Powerful dust storms tore across northern India, killing at least 116 people and injuring more than 250 as they flattened houses, and warnings were made on Thursday of more chaos to come.
Winds of more than 130 kilometers per hour ravaged Uttar Pradesh, Rajasthan and Punjab states and the death toll was expected to rise, officials said.
The dust storms brought down mud houses, killing people as they slept.
Walls, trees and electricity pylons were all torn down by the winds which were followed by fierce lightning storms.
Similar storms kill hundreds of people each year in India, but these were some of the most severe in recent decades.
Shivam Lohia, who owns a hotel in Alwar district of Rajasthan, said he abandoned his car on the road and ran for his life.
"I haven't seen such a devastating storm in at least 25 years. Everyone was scared and running for cover as trees and homes were getting blown away," Lohia said.
There were 65 confirmed deaths in Uttar Pradesh in the north, 35 in the desert state of Rajasthan to the west, and two in Punjab.
Agra district of Uttar Pradesh was one of the worst hit with more than 40 people killed. The Taj Mahal is in Agra city but officials said the monument escaped damage.
Last month, a similar storm killed at least 15 people in Uttar Pradesh and destroyed two minarets over an entry house to the Taj Mahal.
Most of the victims were killed as they slept by houses that collapsed or by falling walls, trees and electric pylons, officials said. Many people in India sleep outside during the summer months to escape the high temperatures.
Rescuers were still going through the rubble of felled homes on Thursday.
"We can confirm at least 65 deaths from around 40 of the state's 75 districts," said T.P. Gupta of the Uttar Pradesh relief commissioner's office. He called the death toll "unprecedented" from such a storm in the past 20 years.
Gupta said there were 43 deaths in Agra district. More than 150 cattle and other animals were also killed.
"There is a forecast for more storms in the next 48 hours across the state so people should be alert," he added.
Hemant Gera, head of Rajasthan's Disaster Management and Relief Department said emergency services are on alert and that people should not sleep outdoors.
In Punjab, Kumar Amit, deputy commissioner of Patiala district, said that a wall collapsed killing two people.
India's Meteorological Department said there would be more storms over a wider area up to Saturday.
Three districts in Rajasthan, a state popular with tourists for its heritage palaces and colorful culture, were hit the hardest on Wednesday.
Weather department officials in New Delhi said the storm was caused by a collision of rival eastern and western weather systems over the humid northern plains.
Agence France-Presse