New fence guards Miyun Reservoir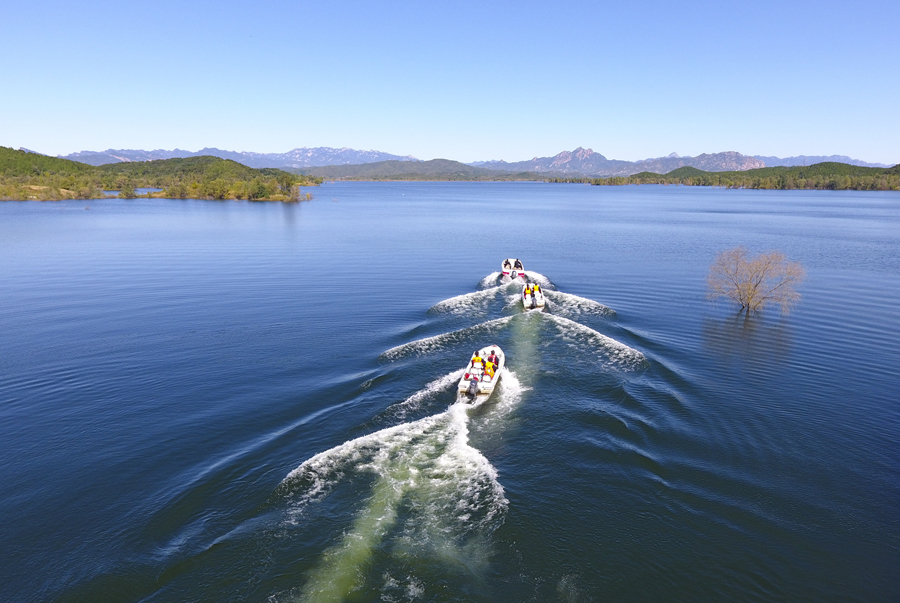 Miyun reservoir, Beijing's major water storage site, has completed construction of a 400-kilometer protective fence around the area.
Regulations forbid visitors from entering the reservoir area-located about 120 km northeast of the city center-and no fishing or recreational uses are allowed.
Still, many people continue to enter the area secretly to swim, enjoy the view or fish.
To ensure the water's quality and protect the environment, the government created a conservation zone in 2016 and began building a chain-link fence around it.
"The fence project is complete, and the daily operation department will now take over," said Zhang Hua, an official in Miyun's water bureau.
He said the bureau is working on developing a video monitoring system to strengthen reservoir management.
Meanwhile, the authority formed a water protection team of 1,200 staff members to guard the reservoir. There are also people working at the 230 entrances and exits in the area 24 hours a day to prevent intrusions.
Miyun reservoir, with a surface area of 180 square kilometers and a capacity of 4 billion cubic meters, was built in 1960. It's the largest artificial lake in Asia. A road 110 km long around the lake is one of the most popular scenic spots in suburban Beijing.
On Nov 19, water volume in the reservoir reached 2 billion cubic meters, the highest level this century.
Zheng Huaijiang, a resident of Xiwengzhuang county, said he moved out of his hometown with other villagers in 1958 to make way for the reservoir. In 1994, they gave up fish farming with the aim of protecting the ecology.
"I'm happy to see the reservoir reach 2 billion cubic meters," Zheng said. "Our village has sacrificed several times for the reservoir, but we don't have any complaints."
With spring having arrived, many migratory birds are coming to the area.
Zhang Xiaozheng, deputy chief of the reservoir protection team, has been working at the reservoir for 20 years. The number and types of migratory birds have increased in recent years, which means that the natural environment and the water quality are improving, he said.