US no longer 'confident, optimistic and open'
Share - WeChat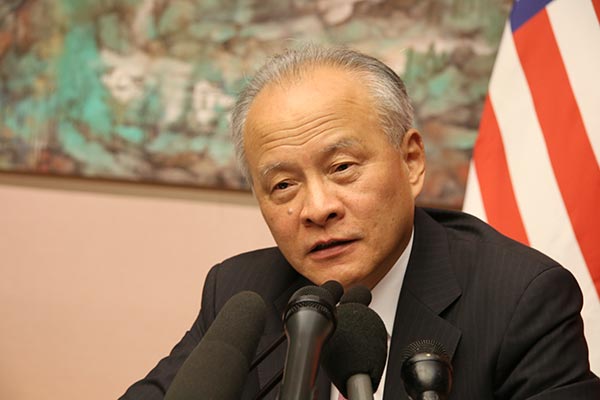 Cui Tiankai, China's ambassador to the United States, is puzzled by the change in a country where he has lived and worked for many years. "Is the America I used to know-an open, confident, optimistic America-still there?" he said in a speech at Harvard University's Fairbank Center for Chinese Studies on April 17.
What perplexes Cui also seems to be confounding many others, especially those who plan to visit the US, or study or do business there.
As China's longest-serving ambassador to the US, where he was once a student and UN employee, Cui is puzzled by Washington's anti-globalization moves-from pulling out of global agreements such as the Paris climate pact to imposing steep tariffs on imports-which many deem as the US administration's disdain for multilateralism.
Addressing a gathering in Chicago that a day after his Harvard speech, Cui said in today's globalized world, no country alone can seize all the global opportunities and meet all the global challenges. Nor can a country prosper in isolation.
"But now we see policies that attempt to close the door and resort to unilateralism," he said. "And to succeed in today's world, the best choice is to take a win-win approach. But now we see policies that are so strongly influenced by the zero-sum mentality as well as policies that regard other people's success as their losses."
Cui came to the US in 1981 to serve as an interpreter at the UN Secretariat and pursued postgraduate studies at Johns Hopkins University in 1986. China's ambassador to the US since 2013, Cui has also served as the ambassador to Japan and China's vice-foreign minister, according to the Chinese embassy's website.
"What I (have) learned in the US has changed my life, my work and my perception of the world to a great extent," he said. "And the influence has been quite positive." Many in the media based in Washington agree that Cui is a no-nonsense diplomat, never skirting questions from reporters.
Partly because of his experience at Johns Hopkins University, Cui refuted some US politicians' allegations that Chinese students and scholars, as well as the Confucius Institutes that teach Chinese and culture, posed a threat to US national security.
More than 350,000 Chinese students were studying in the US in the 2016-17 academic year, according to the latest figures of Project Atlas, a global research initiative on student mobility.
Cui said Chinese students come to the US to learn from its universities, teachers, and local classmates. "I wonder… why some fear the influence of Chinese students in the US while China is not worried that these students may be subject to the impact of the US society," Cui said. "Why some US politicians are… lacking confidence?"
John Delaney, president of the University of North Florida in Jacksonville, had a similar view on the influence of college campus.
But in early February, US Senator Marco Rubio sent an open letter to the UNF and several other Florida schools, saying Confucius Institutes use the teaching of Chinese language and culture as a tool to spread China's political influence, and asking them to sever their ties with the institutes.
However, Delaney said the Confucius Institute on the UNF campus has prompted no complaints, so he sees no reason to discontinue it, the Florida Times-Union reported on Feb 6. "The institutes' two Chinese instructors do not teach political science; they teach Chinese languages and without them, the university would offer fewer Chinese language courses," Delaney said. "Frankly, I think Jacksonville and America have a bigger influence on them (the Chinese instructors) now that they are here."
Since mutual understanding and friendship between the two peoples, especially the younger generation, will determine the future of China-US relations, let us hope newcomers to the US are not puzzled like Cui as the US changes for the better and becomes "an open, confident, optimistic" country again in the future.
The author is deputy editor-in-chief of China Daily USA.
huanxinzhao@chinadailyusa.com
Most Viewed in 24 Hours
China Views