In human rights, Washington surely doesn't 'lead by example'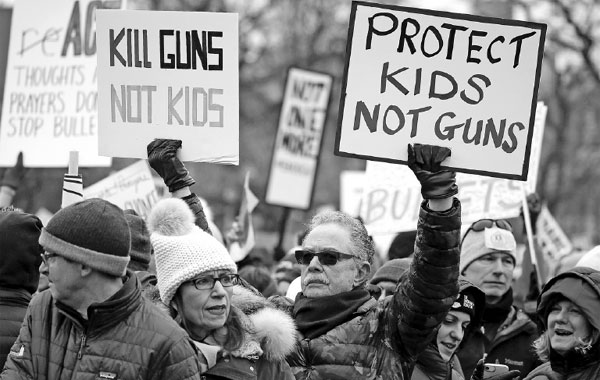 The US State Department owes a debt of gratitude to China's State Council Information Office for publishing the United States' human rights record every year since 1998.
The report on US human rights record in 2017, released on Tuesday, lists many high-profile human rights violations in the US, from mass shootings, hate gatherings by white supremacists, a criminal justice system that discriminates against African-Americans and the huge wealth gap between average white and black families.
It also lists US human rights violations in other countries such as the heavy civilian casualties of US military operations, hacking websites and waging cyber warfare, and holding and torturing people without trial at the Guantanamo detention center.
New York-based Human Rights Watch, in its World Report 2018, highlights many of the same violations. It says the US moved backward on human rights at home and abroad across a range of issues in 2017. The report severely criticizes US President Donald Trump's actions on refugees and immigrants, and for calling them criminals and security threats and consistently advocating anti-Muslim ideas and policies.
Human Rights Watch also says the 2.3 million people in US state and federal jails and prisons on any given day comprise the world's largest reported incarcerated population. Nearly six times more black men are incarcerated compared with white men, and an unarmed black person is five times more likely than an unarmed white person to be killed by police.
Such chapters on human rights violations perpetrated by the US are exactly what's missing in the US State Department reports on nearly 200 countries and regions, which is a shame given that the US reports claim in the preface that "we seek to lead other nations by example".
The double standard and geopolitics the US employs in its report is exactly why it backfired so badly after its release on April 20. That US Acting Secretary of State John Sullivan called the governments of China, Russia, Iran and the Democratic People's Republic of Korea "forces of instability" because of their "human rights" issues is just one example of the US' geopolitical game.
Pointing out China's problems in human rights is one thing, because as a developing country, China has much to improve in this regard. But labeling China a "force of instability" is blowing the issue out of proportion-and that it does not fit reality at all is obvious.
At the 2018 International Monetary Fund/World Bank annual spring meeting that ended last Sunday, the message was that China has lifted hundreds of millions of people out of poverty over the past four decades and contributed to a third of global economic growth in the past decade, more than any other country.
Those facts show China is a source of not only stability, but also prosperity for its own people as well as those across the region and beyond, not to mention China's big role in UN peacekeeping missions and the Paris climate accord. The list is long.
Sullivan should read some of the readers' comments after Agence France Presse tweeted on April 20 that "US brands China and Russia 'forces of instability'."
For instance, Mario Santana commented: "I keep forgetting; was it China, Russia, Iran or ... (the DPRK) who invaded Iraq in 2003, bombed Libya in 2011, and has been arming jihadists in Syria since 2012?"
Cuanticorojo wrote: "Really? Name a country invaded by these forces."
"US(has) caused more war, terror and instability on foreign land than anyone else. Don't kid yourself. And funny how it ignores Israel and Saudi (Arabia)," said Coitnana, referring to the US' double standard.
And cappygolucky said: "Not looking in the mirror, hey America."
Not many will doubt the US is more deserving of the title "force of instability".
The author is deputy editor of China Daily USA.
Most Viewed in 24 Hours
China stories