Trump pledges support in Nigeria's fight against Boko Haram extremists
Share - WeChat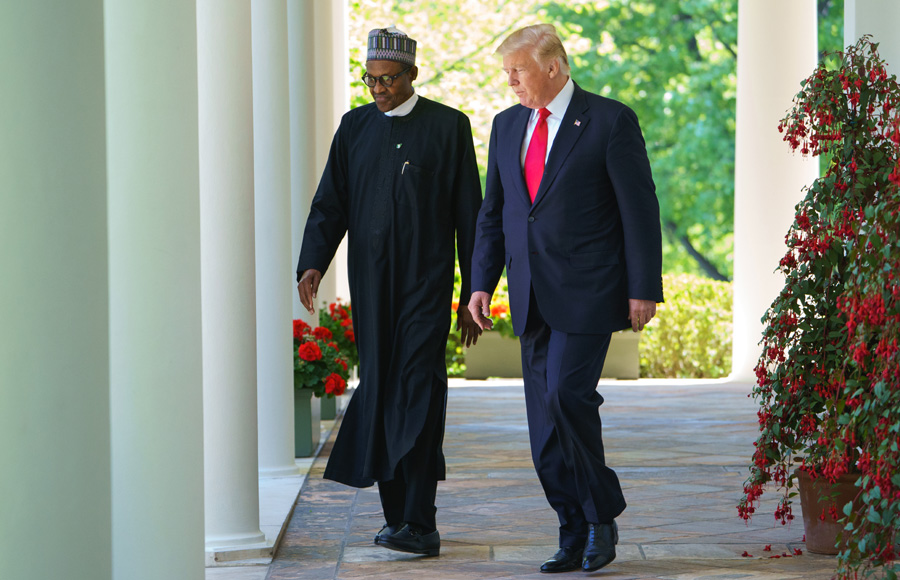 US President Donald Trump pledged stronger support on Monday for Nigeria's fight against Boko Haram jihadists.
After a meeting with Nigerian President Muhammadu Buhari, the first leader from sub-Saharan Africa invited by Trump to the White House, Trump said he was prepared to sell helicopters to the oil-rich country in addition to fighter aircraft already agreed, Agence France-Presse reported.
"These new aircraft will improve Nigeria's ability to target terrorists and protect civilians," Trump said during a joint news conference in the White House's Rose Garden.
Asked when the first deliveries of equipment - including a dozen A-29 Super Tucano light fighter aircraft and unspecified helicopters - would take place, Trump replied: "Very soon."
"We're getting them approved. Part of the problem is you weren't allowed to buy helicopters in our country and now you are. I worked that out," he added.
Buhari, visiting the United States on a mission to drum up more counterterrorism support and US business investment, thanked Trump for Washington's support to help rebuild the country's northeast, which has been under assault for nine years from Boko Haram.
And Buhari diplomatically brushed off the controversy over Trump's alleged branding of Nigeria and other African nations as "shithole countries" in a January rant over immigration.
"I'm very careful with what the press says, other than about myself," Buhari told reporters. "I'm not sure about the validity or whether that allegation against the president was true or not. So the best thing for me is to keep quiet."
Trump did not deny having used the vulgar term. He also did not apologize for the comment.
In fact, Trump seemed to double down on his view, telling Buhari that Africa has "some countries that are very tough places to live in. But we didn't discuss it because the president knows me, and he knows where I'm coming from. And I appreciate that."
AFP and AP contributed to this story.