US educators defend Confucius Institutes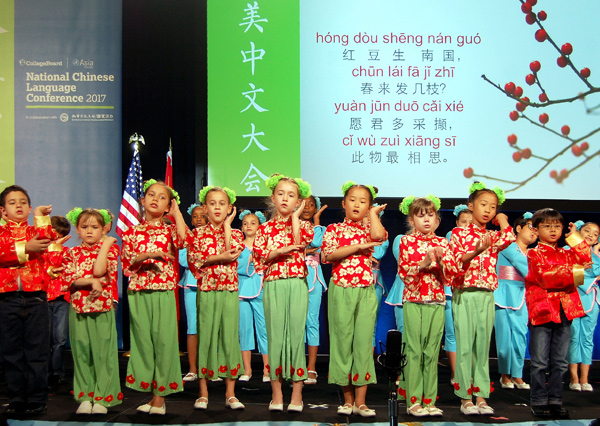 While a university in one state in the United States closes Confucius Institutes, in another state the institute is working with the US Department of Defense on a language program.
That disconnect was one of the issues discussed by educators at a panel in Washington on Tuesday about the importance of higher education exchanges between China and the US in the past 40 years.
The Confucius Institute is a nonprofit public educational organization that works with universities worldwide to promote Chinese language and culture, support local Chinese teaching internationally and facilitate cultural exchanges.
The first such institute in the US was established at the University of Maryland in 2005.
Despite the progress and recognition that the Confucius Institutes have achieved over the years, they have been accused by some of posing a potential threat to US national security and of exerting Chinese influence on US students and faculties.
On March 23, two US congressmen, Michael McCaul and Henry Cuellar, sent a letter to universities in Texas hosting Confucius Institutes, urging them to consider terminating their partnerships, calling the institutes "a threat to US national security".
On April 9, the Texas A&M University system announced its intention to close Confucius Institutes at its College Station and Prairie View campuses.
Meanwhile, in the state of Arizona, the Confucius Institute is collaborating with the US Department of Defense at Arizona State University in Tempe.
The Defense Department has invested in the Confucius Institute at ASU as it looks for a pipeline to Mandarin speakers, according to Matt Salmon, former US representative and vice-president for government affairs at ASU.
"I find it a little bit incredulous that there are those who consider teaching Chinese language and culture as posing a security threat. ... If it does pose a security threat, then the DoD has made a big mistake by funding our program," Salmon said.
"But I think that shows that they are not concerned about it being a threat to national security. It actually enhanced national security by having that kind of ability," he added.
Salmon suggested that the US and China not walk away from the relationships.
"The answer is not to fold up and get rid of these kinds of programs. To me, the answer is to have more of this so there can be more mutual understanding, more dialogue and more interaction with one another."
John Holden, CEO of the US-China Strong Foundation, said, "These classrooms are reaching out to communities and are stimulating interest in more advanced studies of China that they (the universities) may not be able to offer themselves."
Harvey Perlman, professor of law and former chancellor at the University of Nebraska-Lincoln, shared his story of interacting with Hanban, the Confucius Institutes headquarters in Beijing.
When Perlman first got the contract from Hanban to sign for the Confucius Institute at his university, there were terms that he believed were peculiar from the standpoint of US law.
"I rewrote it and sent it back. It was accepted. The next year I was in Beijing and met with Madam Xu Lin, head of the Confucius Institute. She said she wanted me to take the contract for Confucius Institute and rewrite it all, so it's consistent with American values and law," Perlman said.
"Confucius Institute is not a political organization and does not have a political agenda," he added.
Looking to the future of educational exchanges between China and the US, Salmon said "constructive engagement" is a must.
"If we want to have a really positive relationship where we can honestly share our differences, it's imperative to enhance communication and mutual exchanges," he said.
Guo Fengqing and Yian Ke in Washington contributed to this story.