New air terminal opens in Guangzhou
Share - WeChat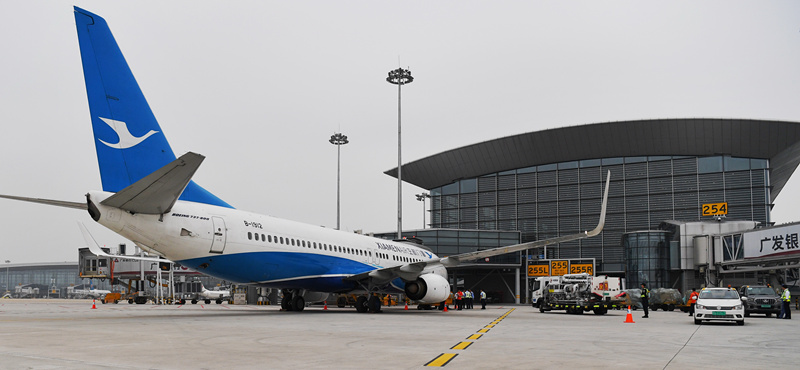 A new state-of-the-art terminal officially opened at Guangzhou Baiyun International Airport, Guangdong province, on Thursday, and Xiamen Airlines had the honor of being the first departure.
Xiamen Flight MF8306 left the terminal at 10:07 am and set course for Xiamen, Fujian province.
The opening of Terminal 2, the largest terminal building on the Chinese mainland, with a floor space of 658,700 square meters, signaled that the airport expansion project, which began in 2012, had been completed.
Guangzhou Baiyun, a major aviation hub, now has two terminals and three runways in operation.
T2 has been equipped with advanced technologies and artificial intelligence equipment, making it easier for passengers to go through customs and security checks, the airport authority said.
According to Chen Donglu, deputy customs director at the airport, facial recognition technologies, robots, self-service declaration machines and other technologies and equipment are in place, allowing passengers to enjoy smoother passage through customs procedures.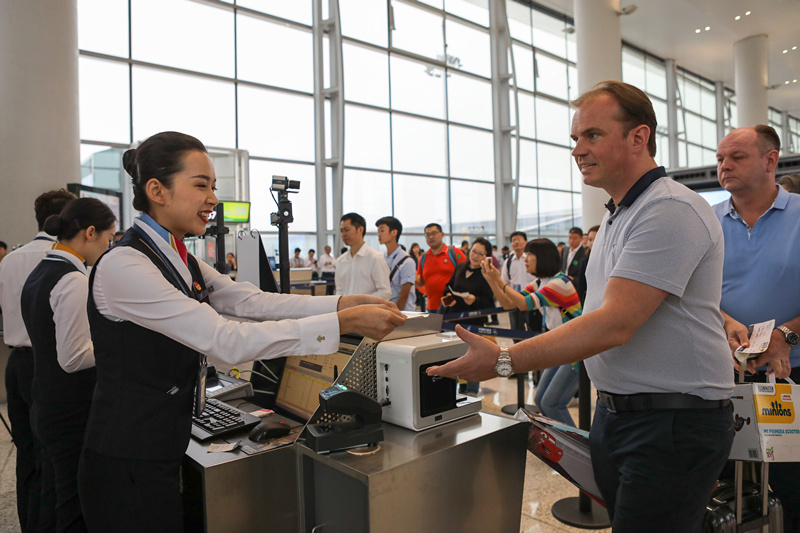 Chen said 12 customs robots will be used in T2.
The robots - which can speak Mandarin, Cantonese, English and other foreign languages - can answer more than 1,000 questions that commonly concern passengers, he said.
The new terminal also has 20 self-service outbound channels and another 30 inbound ones. Thanks to facial recognition technology, passengers can complete customs procedures in a few seconds.
"Passengers can save up to 30 minutes compared with the traditional methods," Chen said.
A passenger surnamed Zhou, who took the first flight from T2, said, "There are many advanced automatic facilities that make the journey easy and comfortable."
Yang Jie, who is in charge of passenger clearances through customs, said the airport will not have to add personnel at T2 thanks to the new measures and equipment.
Customs is considering the introduction of more technologies to allow passengers to pay fees via WeChat, Alipay or other mobile payment platforms, Yang said. Currently, passengers are required to pay the customs fee with cash or bank cards, she said.
T2 is designed to handle more than 45 million passengers a year. Guangzhou Baiyun, one of three major aviation hubs on the Chinese mainland, is currently the third-busiest airport after Beijing and Shanghai. T2 will significantly boost the number of passengers.
The airport is expected to handle more than 80 million passenger trips and 2.5 million metric tons of cargo annually by 2020. It handled 65.8 million passenger trips and 1.78 million tons of cargo last year and is expected see more than 70 million passenger trips and 1.9 million tons of cargo this year.
Qiu Quanlin contributed to this story.