Self-criticism comics by students go viral
Share - WeChat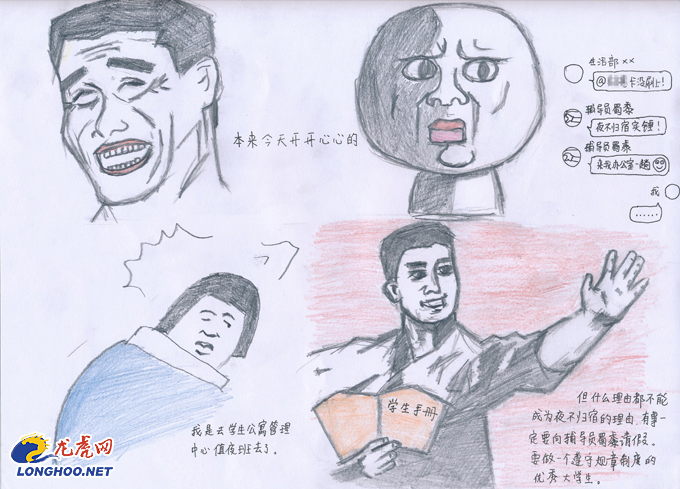 Recently, a group of hand-drawn comics designed by students from Nanjing Forestry University went viral on Chinese social media. Instead of being just for fun, they are serving as repentance letters.
By letting his students draw comics, Li Yong, an instructor at the university, hopes that the students can criticize themselves for violations of school rules.
At the beginning of the semester, Li set this special rule for his students—if they make mistakes, they can choose to write or draw a repentance letter. "Almost all of them choose the latter," he said.
Li said, "I hope to enhance the value of the repentance letter in an interesting way, so that it can be more acceptable to the post-1995 generation students."
"The written version of self-criticisms is losing charm in this era. Students might copy the content from the internet because they always give me similar repentance letters. So, I have been thinking of changing the format to let it play a bigger role," said the instructor.
Tian Ai'ai is a junior student from Nanjing Forestry University. She drew a self-criticism comic for her dormitory, which received a criticism notice for substandard sanitation. "Knowing that I needed to draw a comic as self-criticism letter, my first response was surprise. My mom even posted it on social media[these two don't seem to be connected well. Also, her reaction being surprised…I'm really confused about what she might be surprised about]," she said.
Yet she believes this more novel approach works better than written self-criticisms. "Their purpose is same, but I'm surely more impressed by drawing rather than writing," she said.
Another student noted, "I think comics are easier than a 5,000-character written self-criticism and make me look more impressive." It was her first time to write self-criticism letter in what she felt was a creative way.
"I might forget what I've done and even complain about the instructor if I'm forced to write a long repentance letter. But when I draw a comic instead, I would concentrate more on the mistake I made and be more conscious about it," she added.
Dong Bo, director of the Student Office at the university, said it's an innovative education method, and the university strongly supports Li's idea.
In Dong's view, the traditional way of writing repentance letters is not very ideal. Rather, students can express their feelings and reflect by drawing.
"Students show the thought process and reasons behind their absence or tardiness in the comics. It indicates that this way can make them express what they're thinking and truly realize their mistakes."
"We'll let other instructors in our university learn about this approach, and promote it by combining other elements," he added.