China's A-team lady hoopsters to play in Seattle
Share - WeChat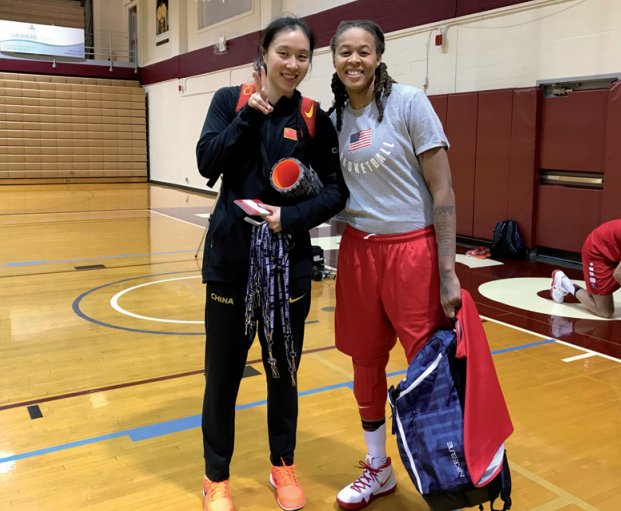 The Chinese women's national basketball team visited Seattle for a three-day training camp starting on Tuesday and will play an exhibition game at Key Arena against the 2018 USA Women's National Basketball Team on Thursday.
There are 15 top Chinese players participating in the mini training camp.
"It is such a valuable opportunity to experience in-game situations," said Chinese team captain Ting Shao. "We hope to improve our skills through playing with the top teams in the world, especially the physical confrontation skills."
Ting was also happy to see her old WCBA friends at the camp, including Sylvia Fowles of the Minnesota Lynx. In the 2015-16 WNBA off-season, Fowles had played in China for the Beijing Great Wall, leading the team to a championship.
The game on Thursday night will be the first of eight games the Chinese team will play in the United States. In the following days they will square off against the Seattle Storm, the Las Vegas Aces and Los Angeles Sparks.
This marks the second game between the USA and China in Seattle. In May prior to the 2012 Olympic Games, the two teams first met.
"It's great for us to get such a game, especially against an experienced Olympic team like China early on in this process," said Dawn Staley, USA National Team and University of South Carolina head coach. "Competition brings out the best in them, and that's what China will give to us in Seattle."
"I think the players will very much appreciate playing the game rather than practicing," said Xu Limin, head coach of Chinese team.
Wei Zheng, assistant coach of the Chinese team, told China Daily that about half of their players were very young and lacked experience in big games.
"They are excited for this precious opportunity to learn in the United States," Wei said. "So our target is simple: to test results of our training and improve through playing games with the best teams in the world."
The team held closed-door practices on Tuesday and Wednesday at Seattle Pacific University. The training camp is also the final tune-up before the USA team gathers for the 2018 FIBA World Cup on Sept. 22-30 in Tenerife, Spain.
Currently ranked 10th among women teams worldwide by the FIBA (International Basketball Federation), China qualified to play in the 2018 FIBA World Cup by virtue of a bronze-medal finish in the 2017 FIBA Asia Championship.
China has competed in eight Olympic competitions and nine FIBA World Cups and has captured an Olympic silver medal in 1992 and bronze in 1984; and a silver in 1994 and bronze in 1983 World Cup play.