Rejuvenation takes 'hard work'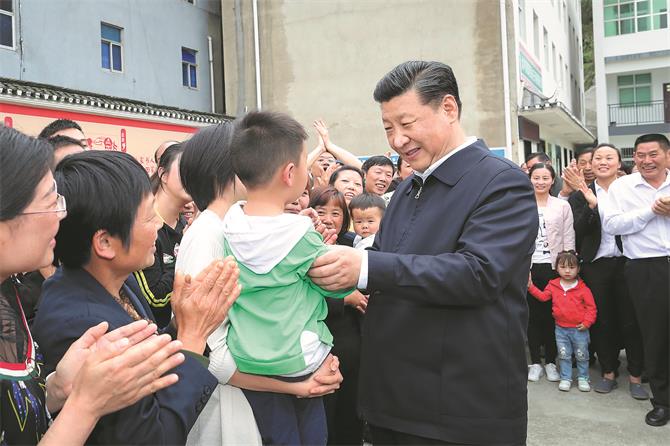 Xi visits Three Gorges, checks on ecology protection
National rejuvenation relies on the "hard work" of the Chinese people, and the country's innovation capacity must be raised through independent efforts, President Xi Jinping said on Tuesday.
Xi, also general secretary of the Communist Party of China Central Committee, made the remark in an inspection tour to the Three Gorges Dam in Yichang, Hubei province.
National rejuvenation will not be easily achieved, and it will need continuous efforts and diligent work, Xi said while praising the contributions of technology workers at the dam.
China could scarcely create a leading role for itself if it had relied on foreign countries to build the Three Gorges Dam, Xi said.
The president said he was proud of the technology workers as well as the country's ability to build such massive projects.
China must develop key technology, and the country's innovation capacity must be improved, Xi said.
At the village of Xujiachong near the dam, Xi asked about development of local industries and the living conditions of the villagers, most of whom were relocated after their homes were flooded by the dam.
Villagers told Xi while they previously washed clothes in the river, now they use tap water, which is then processed by a sewage plant. Xi praised the environmentally friendly change.
After hearing village officials recite the rules of Party members in a local musical melody, Xi said that it's a good practice to publicize Party discipline in such interesting ways.
On Wednesday morning, Xi boarded a ship at Jingzhou and inspected ecological protection and development on the Yangtze River.
On Tuesday morning, Xi had traveled to the new materials industrial park of Hubei Xingfa Chemicals Group on the banks of the Yangtze to inspect the environmental protection there after he got off the plane from Beijing.
Xi told the workers of the company, which produces phosphoric products and other high-quality industrial chemicals that the restoration of the environment along the Yangtze River should be a top priority.
He urged the development of proper industries and pursuit of high-quality growth with the premise of protecting nature.