Guizhou signs agreement with English Midlands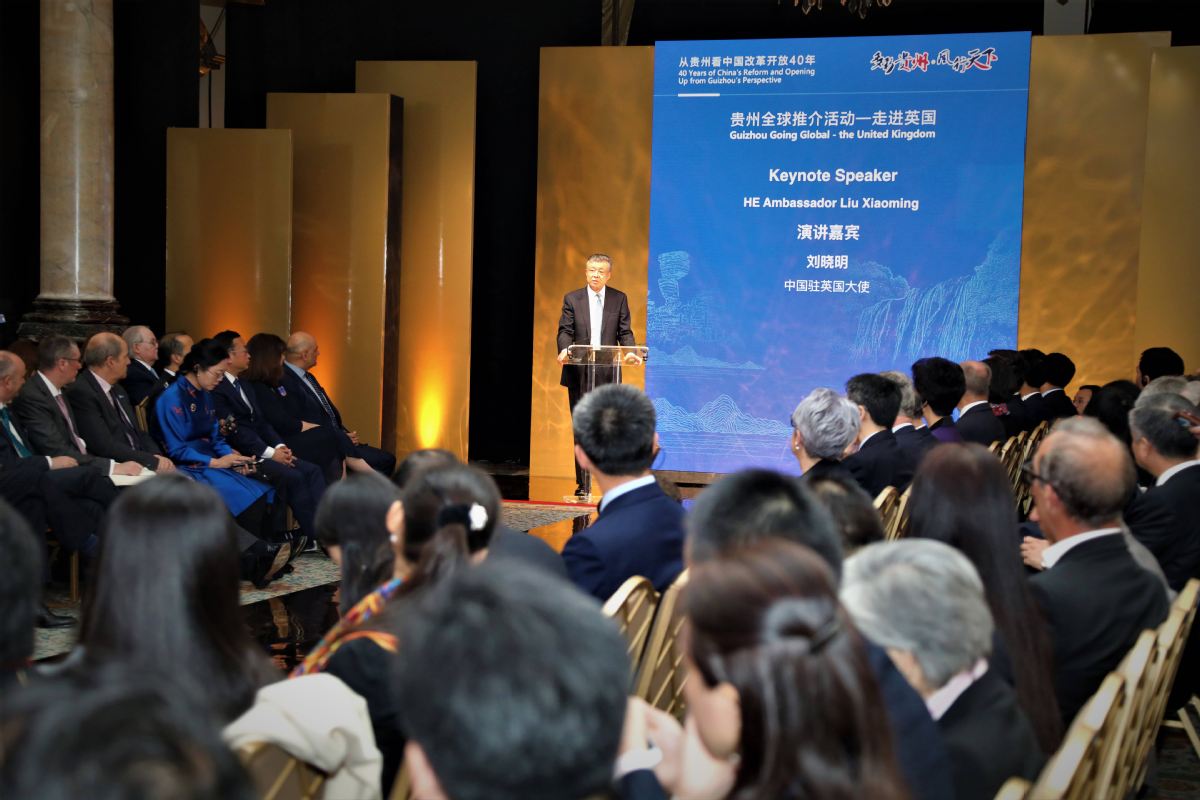 Widely known for its scenery, ethnic Miao people's performances and cuisine, Southwest China's Guizhou province has for decades been a favorite destination among overseas tourists, but there is more to the province than just that.
Recently, it has also become a modern high-tech province and China's capital of big data, with around 9,000 data companies based there.
On Wednesday in London, the Guizhou provincial government signed an agreement with the United Kingdom's Midlands Engine for Growth regional partnership, in the presence of more than 100 Chinese and UK business and cultural leaders.
Liu Xiaoming, China's ambassador to the UK, said he sees tremendous opportunities for future collaboration between Guizhou and the UK. He urged the two sides to unleash these opportunities by aligning their development policies, match competitive strength sectors, and jointly realize opportunities in the Belt and Road countries.
Shen Yiqin, governor of Guizhou province, added that she too looks forward to building bridges of friendship, understanding, tourism and business collaboration.
John Peace, chairman of Midlands Engine, said the two partners will now start to explore collaboration opportunities, in sectors including tourism, technology, and pharmaceuticals.
"Our collaboration is a continuation of the golden era of UK-China relations that started with President Xi Jinping's state visit to the UK in 2015. We are very excited about this opportunity," Peace said.
The Midlands, a region with a population of 11.5 million, contributes 222 billion pounds ($309 billion) annually to the UK economy. Hoping to help the region to compete with London and the Northern Powerhouse initiative, the UK government sets an ambitious target to grow that figure by a further 34 billion pounds by 2030 and create 300,000 extra jobs.
One example of such partnership is an agreement where the Chinese non-profit group China Craftsmanship will help the Yorkshire-based University of Huddersfield roll out a series of vocational training programs in China next year.
"The programs will focus on helping Guizhou-based crafts workers learn how to scale up and commercialize their work," said Xia Hua, chairwoman of China Craftsmanship and the Chinese fashion house Eve Group.
Eve Group's fashion designs rely heavily on Chinese cultural embroidery techniques. Currently it contracts thousands of craftspeople in Guizhou to produce its clothes.
Next month, the China Britain Business Association will send a delegation to Guiyang, Guizhou's capital, to attend the China International Big Data Industry Expo, from May 26 to 29.
Already a famous big data expo in China, it will be attended by almost 400 companies in sectors including blockchain, social management, industrial innovation, and smart cities.