Leaders of Romania, Serbia, Greece, Bulgaria meet for economic cooperation
Share - WeChat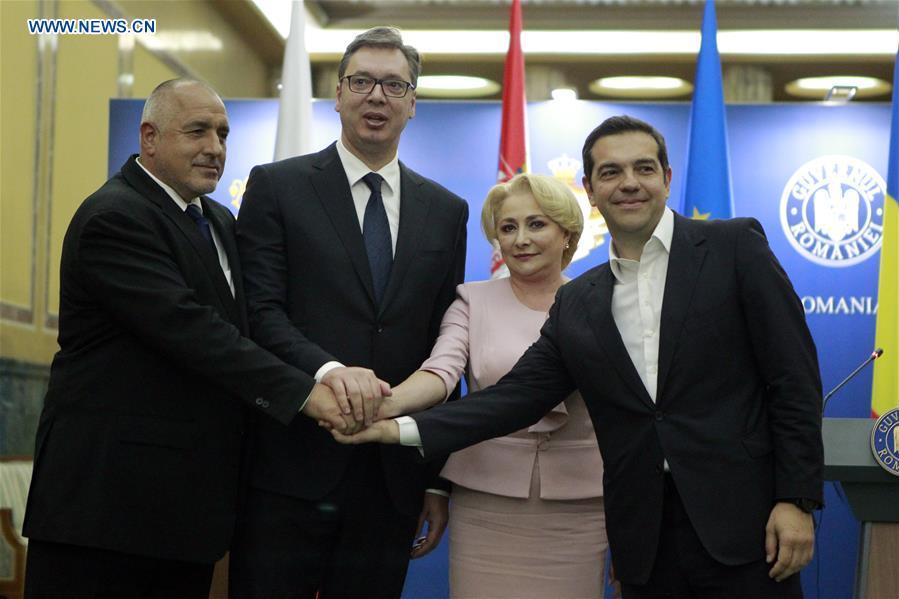 BUCHAREST - The leaders of Romania, Bulgaria, Greece and Serbia met here on Tuesday, discussing economic cooperation, concrete projects and the 16+1 cooperation format promoted by China.
"We discussed today about economic cooperation, about concrete projects that the four states can develop and about the 16+1 format," Romanian Prime Minister Viorica Dancila told a joint press conference with Serbian President Aleksandar Vucic, Greek and Bulgarian Prime Ministers Alexis Tsipras and Boiko Borisov.
According to Dancila, the consultations provide a good opportunity to strengthen dialogue and identify ways of cooperation in the Southeast European region, especially in terms of economic development.
The Romanian prime minister said that "it is a great pleasure" to host the third quadrilateral meeting, which has proved "its usefulness and added value" in promoting the common objectives in the region of the four countries.
"I appreciate Serbia's role as a stability factor in the Western Balkans and a positive contribution to the process of cooperation and reconciliation, and we assure it of all our support in the negotiation process for EU membership," Dancila said.
At the same time, the Romanian prime minister assured her Bulgarian counterpart of Bucharest's support in fulfilling the objectives of Bulgarian Presidency of the Council of the European Union, where the Western Balkans play a key role.
She also said that Greece is a key partner for Romania in the region and expressed her country's desire to boost bilateral relations, as well as their cooperation on a bilateral, regional and European level.
The quadrilateral meeting is the third edition in this format, after those of October 2017 in Varna and December 2017 in Belgrade.