New Guangzhou air terminal to open
Share - WeChat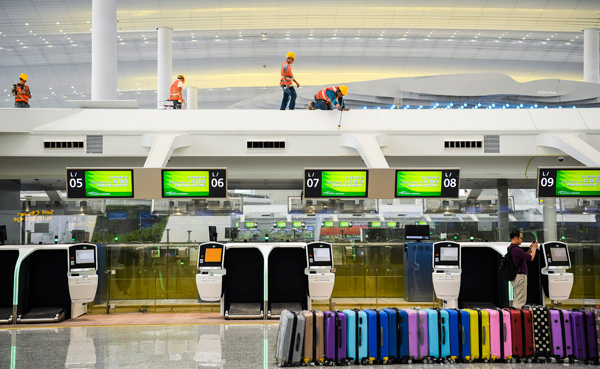 The new terminal at Guangzhou Baiyun International Airport in Guangdong province, which will open on Thursday, is expected to improve capacity and add momentum to the construction of a world-class aviation hub in the provincial capital.
The first phase of the Terminal 2 area, which will have floor space of 880,700 square meters, will be able to handle more than 45 million passengers a year. It includes the terminal building, a traffic center and related supplemental facilities.
According to a statement from airport authorities on Monday, T2 will be the largest single airport terminal building on the Chinese mainland. It will include both international and domestic exit and arrival processing and related customs and security check facilities, along with 58 passenger boarding jetways.
Xiamen Airlines-along with foreign carriers Saudia Airlines, Kenya Airways and Garuda Indonesia-will be the first to operate from the new terminal, the airport said.
"The operation of T2 will strengthen Guangzhou's status as an aviation hub on the mainland and help attract more foreign and domestic airlines to open flights linking the southern metropolis to cities around the world," it said.
Moreover, the operation of T2 is expected to help Guangzhou form a four-hour air traffic circle that includes major cities in Southeast Asia, and a 12-hour air traffic circle with major metropolises and destinations elsewhere, it said.
Lin Jiang, a professor at Sun Yat-sen University, said T2 will help Guangzhou Baiyun International Airport increase its capacity and boost the development of other aviation industries.
"In addition to air transportation, the operation of T2 will spur the development of tourism, commerce, logistics and related industries, which are expected to achieve sustainable growth under the country's Belt and Road Initiative and the Guangdong-Hong Kong-Macao Greater Bay Area," Lin said on Monday.
"Although there are many airports in the Pearl River Delta, Guangzhou Baiyun in Guangdong's provincial capital is an important aviation hub in the southern China region," he said.
T2, which has 20 self-service outbound channels and another 30 inbound ones, will introduce advanced artificial intelligence and other high-tech measures and equipment, including e-channels and a facial-recognition system, to help raise efficiency and simplify exit and entry procedures, the airport statement said.
In addition to shuttle buses, T2 will be linked to the city center and the national high-speed railway network by Guangzhou's advanced subway and light rail network.
Guangzhou Baiyun is now the third-busiest airport on the Chinese mainland after Beijing and Shanghai.
It is expected to be able to handle more than 80 million passengers a year and over 2.5 million metric tons of cargo annually by 2020. The airport is projected to be able to handle more than 70 million passenger trips and 1.9 million tons of cargo this year.
Last year, the airport handled 65.84 million passenger trips, up 10.2 percent year-on-year. Of those trips, 15.89 million involved foreign passengers, up 20 percent year-on-year.
The airport handled 1.78 million tons of cargo in 2017, a year-on-year increase of 7.8 percent.
Luo Yongshi contributed to this story.