Afternoon tea given a floral flourish at Ritz-Carlton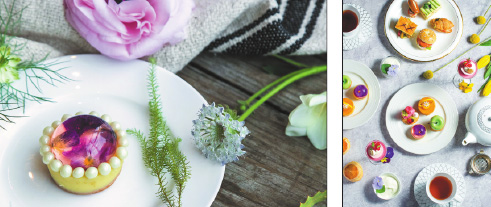 The Ritz-Carlton Beijing, Financial Street has joined hands with Mizu Botanical Laboratory, a local flower shop, to launch a new afternoon tea in early April.
Running until April 30, the two sides have come together to provide guests with a unique afternoon tea experience of cakes, sandwiches and tea combined with a flower arranging lesson.
Mizu Botanical Laboratory, founded in 2015, specializes in floral design and arranging.
"We hope to promote plants to people from all walks of life," said Ma Tiantian, a founder of the shop." That includes those that like having afternoon tea at a hotel."
Ma added that the Ritz-Carlton was looking for a new and unique theme to go along with its afternoon tea. "We use our plants to inspire their dessert chef and offer floral inspired courses for the guests," she said.
Tang Shushu, director of public relations at the hotel, said: "Our hotel serves ladies and gentlemen in an elegant style. We create differently themed afternoon teas every month by searching for and matching elements."
"Mizu is a unique partner for us," said Tang, adding the flower specialists combine natural beauty with scientific elements for people to experience, which is perfect for spring.
Apart from the flower arranging workshops, the afternoon tea will feature imported coffee, and delicate sweets and savories such as flower and jelly cheesecake, red berry trifles, white chocolate citrus tart, and brioche with egg salad and black truffle.
There are two options for the afternoon tea. One is priced at 477 yuan ($80) for two people, and comes with two complimentary fragrance essential oil cards. The other is priced at 588 yuan for one person, and includes the workshops which run from 2 pm to 5 pm on April 21 and 22.