ZTE says US penalties are 'unfair'
Share - WeChat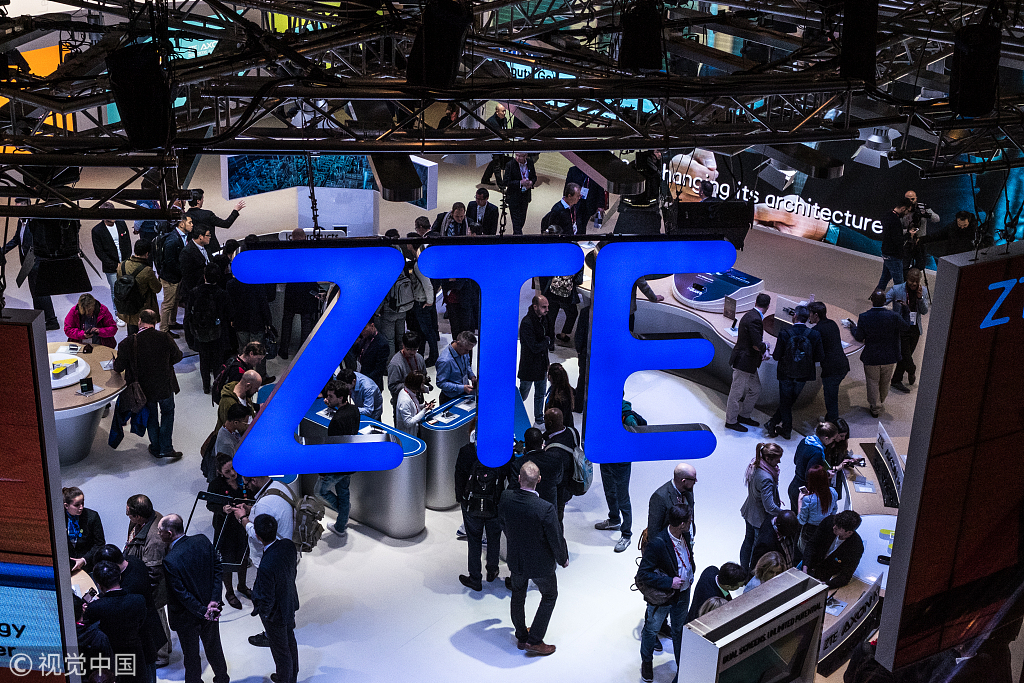 Company vows that it will use all legal means to safeguard its rights
Chinese telecom equipment maker ZTE said on Friday that it is firmly opposed to the United States government's decision to impose "unfair and unreasonable penalties" on it and will safeguard its legitimate rights and interests through all available legal means.
"The US Department of Commerce is overly playing up subtle issues and politicizing trade disputes," Yin Yimin, chairman of ZTE, said at a news conference in Shenzhen on Friday. "We are strongly against the unfair and unreasonable penalties."
The response came after the US Department of Commerce banned ZTE earlier this week from buying any US technology for seven years, a decision that experts said could deal a deadly blow to the Chinese company and negatively affect the global telecom industry.
The penalties against ZTE are part of a broader US strategy to politicize economic competition as the US is locked in a race with China to vie for the future top spot in high-tech and smart manufacturing, experts said.
According to Yin, the company has devoted many resources — including spending more than $50 million in 2017 and training about 65,000 employees — to learn about and comply with foreign export control laws and regulations, after pleading guilty in 2016 to violating US sanctions.
Despite all the efforts that ZTE has made, the US government imposed the ban on ZTE because the Chinese company failed to discipline some employees by reducing their bonuses or reprimanding them as agreed to in the terms of a sanctions settlement, ZTE said in a statement.
"The US government did not take into account that ZTE found the problem itself and took the initiative to report such problem to the regulator. We also moved very quickly to punish people who made the mistake, and hired US law firms to independently investigate the issue," the statement said.
"We won't give up solving this problem via dialogue, but we are also determined to safeguard our legitimate rights and interests through all legally available means," the Shenzhen-based company added.
The ban is sending the whole company into a state of shock and severely affecting its 80,000 employees and their families, as well as several hundred telecom carriers that ZTE serves and tens of millions of US consumers, Yin said.
It will also directly harm the businesses of its thousands of partners, including US companies, which supply products and technologies to and team up with ZTE in the telecom sector.
Wu Hequan, an academician with the Chinese Academy of Engineering, said that although ZTE has 80,000 employees, the US government has leveraged ZTE's failure to punish 35 workers as an excuse to attack the whole company.
"The ban on ZTE is part of the US' broader moves to target China's high-tech players, especially those leading the global telecom sector. The US government feels threatened as Chinese tech companies are emerging as innovation pioneers," Wu said.
On Tuesday, the US Federal Communications Commission banned US telecom carriers from using federal subsidies to buy networking gear from Huawei and ZTE, citing national security concerns.
Bai Ming, a researcher with China's Ministry of Commerce, said Chinese tech players are finding it increasingly hard to access the US market amid the US government's growing scrutiny.
"It is groundless for the US government to suspect Chinese companies just because they are from China," Bai said. "National security risks should not be used as a universal camouflage for protectionism practices."
The ban on ZTE also triggered widespread concern that China's heavy reliance on foreign processors will threaten the foundation of its electronics industry. In recent years, China has spent more than $200 billion on imported chips annually, more than the amount spent on crude oil imports.
Hu Weiwu, a researcher at the computer institute of the Chinese Academy of Sciences, said the information technology industry is so globalized that no country can be fully independent, and the United States is no exception. That's why the US ban could have a catastrophic impact on the Shenzhen-based company, Hu said.
"Still, more efforts are needed to develop China's homegrown semiconductor sector, for chips mirrors a country's overall technology level," Hu said, adding that it is crucial to promote the wider use of self-developed chips in a wide range of sectors.
Yin Yimin, the ZTE chairman, said, "We will step up spending on research and development to boost our in-house technological capabilities."
Cheng Yu contributed to this story.