Initiating 'a golden era' for China-Kenya cooperation
Share - WeChat Liu Xianfa, ambassador of the People's Republic of China to the Republic of Kenya.
In today's world, it has become universally acknowledged that development is the first priority. But how do we promote and realize development? Chinese President Xi Jinping has long underscored solid work for development, as showcased by his remarks that "making empty talk is harmful to the nation, while doing practical work can help it thrive." Since the establishment of diplomatic relations 55 years ago, China and Kenya have cooperated to complete more than 100 major projects including the standard gauge railway (SGR) and the Moi International Sports Centre. Currently, China is Kenya's largest trading partner, investor and contractor. The China-Kenya cooperation brings along tangible benefits to the people of both countries, and promotes the economic and social development of Kenya. This is a result of the solid work we have accomplished hand in hand.
The Mombasa-Nairobi SGR is the best known among the projects between our two countries. Financed and constructed by Chinese side, the SGR project has created 46,000 local jobs, cut the transportation cost between Mombasa and Nairobi by 40 percent, and increased Kenya's GDP by 1.5 percent. Chinese engineers worked 16 hours per day, slept on the construction sites in night, and some even broke down from the constant work and sacrificed their lives because of lacking timely treatment.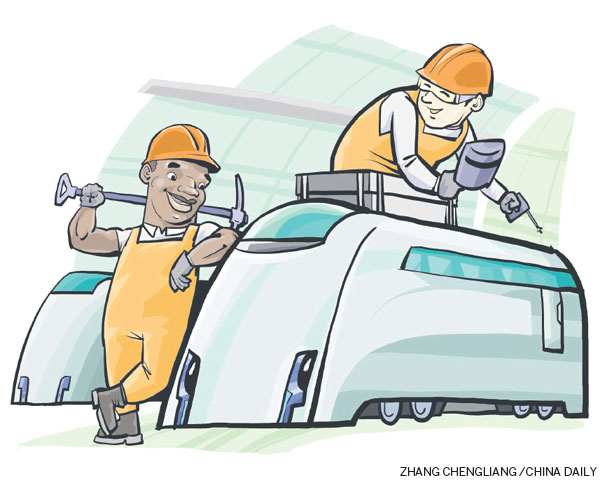 With the joint efforts of both sides, the SGR was completed in two and a half years, taking half as long as expected and officially launched on the Madaraka Day last year. So far, the SGR has transported more than a million passengers and 300,000 metric tons of goods. Committed to intensive development, China and Kenya have worked hard to make sure that the development of the railway goes hand in hand with growth of industrial parks and special economic zones so that infrastructure development and industrial development can reinforce each other.
Vocational education training projects are most conducive for youth entrepreneurship in Kenya. China provides funding, equipment and teachers, and cooperates with 134 institutions and universities, such as the Kenya University of Science and Technology, to train nearly 30,000 mechanical engineers, electricians and automation professionals each year, who are in short supply in Kenya. Besides, China strongly supports the Kenya National Youth Service, which has helped more than 10,000 young people master engineering skills and gain employment. China has helped Kenya promote industrialization by technology transfer and human resources development, thus enhancing its capability to achieve self-driven and independent development.
The investment projects made by Chinese enterprises enjoy the brightest future. As China has listed Kenya as a pilot and demonstration country of China-Africa industrial capacity cooperation, Chinese enterprises have been actively responsive to President Uhuru Kenyatta's "Big Four" Agenda. Chinese enterprises invested $100 million to establish the Industrialization Research, Development and Production Base, $80 million to construct Twyford — the biggest ceramics company in East Africa, and $480 million to build the Nairobi Global Trade Centre. Moreover, Chinese enterprises made $2 billion investment in the building of industrial park in Eldoret and are investing billions of dollars to build an industrial park and an economic zone in Mombasa.
These efforts will greatly enhance Kenya's capacity for self-sustainable development, speed up Kenya's industrialization process and create a large number of job opportunities. In this process, China and Kenya have been exploring new patterns of investment cooperation, public-private partnership for instance, which have effectively addressed the problem of financial shortage without increasing Kenya's debt burden.
In its assistance to and cooperation with Kenya, China has always committed to not interfering in Kenya's internal affairs, attaching no political strings to its assistance, not forcing Kenyans to do what they are unwilling to do and not making empty promises. Kenya is a great nation, and her people are great people. Kenya needs no foreign intervention or preaching. Chinese President Xi Jinping often said, "You cannot know whether the shoes fit or not until you wear them." It is Kenya and the people of Kenya who know the best and have the best position to say how China-Kenya cooperation has contributed to the development of the nation and the well-being of her people.
China-Kenya cooperation is inclusive. We welcome the concerted efforts of the international community to promote development and revitalization of Kenya. At the same time, we hope relevant countries view China-Kenya and China-Africa cooperation in a fair and objective way, avoid empty talk and contribute more to the development of Kenya and other African countries.
Now the China-Kenya relations are at a new historical starting point. Socialism with Chinese characteristics has entered a new era and President Uhuru Kenyatta sworn in for a new term in office. We are willing to make joint efforts with Kenya to strengthen the strategic connection of "Belt and Road Initiative" with Kenya's Vision 2030 and the "Big Four" Agenda. We will roll up our sleeves to work together with the brotherly Kenyan people, to achieve Kenya's rapid and high-quality development, initiate "a golden era" for China-Kenya cooperation as well as create more benefits for our peoples.