PLA deploys latest ballistic missile to newest brigade
Share - WeChat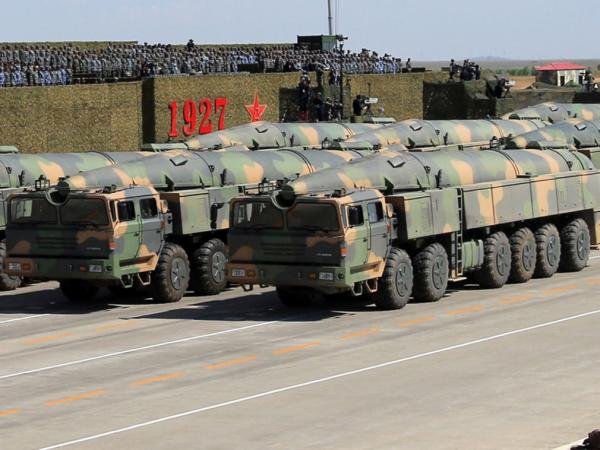 The People's Liberation Army Rocket Force has established a new brigade and armed it with one of the nation's most powerful ballistic missiles.
A commissioning ceremony was held recently by the PLA Rocket Force at the new brigade's base at an unidentified location to mark the delivery of "a new type of missile", the Rocket Force said in a statement on Monday. The move indicated that the brigade has finished the establishment and trial run phases and has begun to gain full combat capability, it said.
The weapon given to the brigade is a domestically developed, new-generation intermediate-range ballistic missile capable of delivering conventional and nuclear warheads. It can carry out rapid nuclear retaliation as well as precision strikes against ground targets or large ships within an intermediate range, according to the statement.
It called the missile a new pillar in the Chinese military's strategic deterrence and strike arsenal and a major "trump card", adding that the missile's deployment was "a milestone in the Rocket Force's history" because it has given the force a "new strategic tool".
The Rocket Force also said it has been sparing no effort to foster the capability to conduct nuclear retaliation and intermediate-and long-range precision strikes and has obtained a succession of breakthroughs in new weapons' research and development. Its units received several new types of missiles with various ranges and functions over the past several years, it noted.
The statement did not give the type of missile delivered, but a video clip provided by the Rocket Force and the description of the weapon in the statement indicate it is the DF-26 intermediate-range ballistic missile.
The mobile DF-26 was first shown to the public at the V-Day parade in Beijing in September 2015. It also was used in a parade last July in the Inner Mongolia autonomous region that celebrated the PLA's 90th birthday.
The missile and the DF-21D, also a new weapon deployed by the Rocket Force, are believed to be the only two anti-ship ballistic missiles in the world.
A strategy researcher close to the PLA who wished not to be named said Monday's statement was probably the first time the Rocket Force or its predecessor-the PLA Second Artillery Corps-had publicized a new missile's delivery. "Considering that the DF-26 is tasked with hitting key targets on land and at sea, it is very interesting that the Rocket Force published this news at this point," he said, also mentioning that the weapon is widely dubbed the "Guam Killer" in the West.
The PLA never makes public specific missile capabilities. Foreign publications, including the Jane's Strategic Weapon Systems, have speculated that DF-26 has a maximum range of 4,000 kilometers and a payload capacity of 1.8 metric tons.