German prof keen to bring two 'M's to China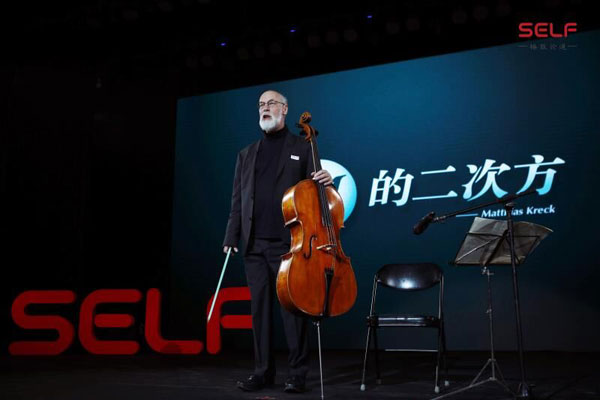 It is hard to imagine a link between the "two extremes" of music and math — the fields could not appear to be more different. Yet combining the two in one's life could have a remarkable effect on the mind, shaping and coloring a person's character.
"They occupy two different activity centers of our brain. Music creates great feeling and boosts emotional intelligence, while math is just the opposite — boosting rational intelligence," said German mathematician Matthias Kreck in an interview with China Daily website.

Information from each of the two disciplines is mapped onto a different area of the brain, but the extremes sometimes touch each other, said Kreck.
Born in a traditional, well-educated family in Herborn, Kreck, 70, grew up immersed in a musical environment and started learning musical instruments at the age of 4. Together with his four older sisters, Kreck said he practiced cello and violin three hours per day. "My mother controlled the practice at least half of the day," he told China Daily website, adding his father is a theological scientist.
"They care more about family education, particularly music, than school education."
To the teenage Kreck, math study said something about intelligence and it is the easiest thing to be acknowledged, while music carried almost magical healing powers, creating feelings of beauty and hope when he sometimes got bad grades.
"Now, a piece of music could give me relief from complicated math research," he said. "Before I start a piece of music, I have to learn the text for hours to make myself slow down. It is the same with math research."
Kreck said today, people live in a frantic, always-on world where everything happens fast. To slow down and observe the world carefully — that is what our society needs most, he said.
"It is the same with today's China," he added, remembering when he first came to Beijing in 1990, part of a German government delegation invited by the Chinese Academy of Sciences. "Much has changed since then."
He said he had never seen so many older people in his early tours to Beijing, but now he sees many young people rushing, running and hurrying into their future. Metropolises in Germany like Berlin and Hamburg share this similarity with China's big cities, he said.
Despite the hectic pace, Beijing has witnessed great progress, with the economy taking off and more skyscrapers appearing, Kreck said. What's more, China has already equalized access to broad education, where students in both rural and urban areas can take more courses, particularly in the arts.
Education has become more authentic as "we lower the level that wants to reach everybody," he mused. He doesn't personally encourage additional training after school hours, though many people believe this is the purpose of elite education.
It was free time after school that helped him develop a great interest in math and explore its secrets, Kreck said. He used a widely-seen video on how to steady a wobbly table that he posted on YouTube and demonstrated at the SELF forum as an example.
Normally, it is easy to steady it by wedging a piece of folded paper under a leg. But for the mathematician, just rotating the table in a certain way does the trick, where a mathematical proof helps the method work for four-legged tables on an uneven surface.
"People have deemed music and painting ("malerei" in German; two of Kreck's 'three Ms'), all to do with arts," Kreck said. "To me, math itself is an art motivated by beauty."
The best proof of this, he said, is the aesthetic association with the "golden ratio", upheld by the ancient Greeks.