Arab summit concludes with strong appeal for regional peace and unity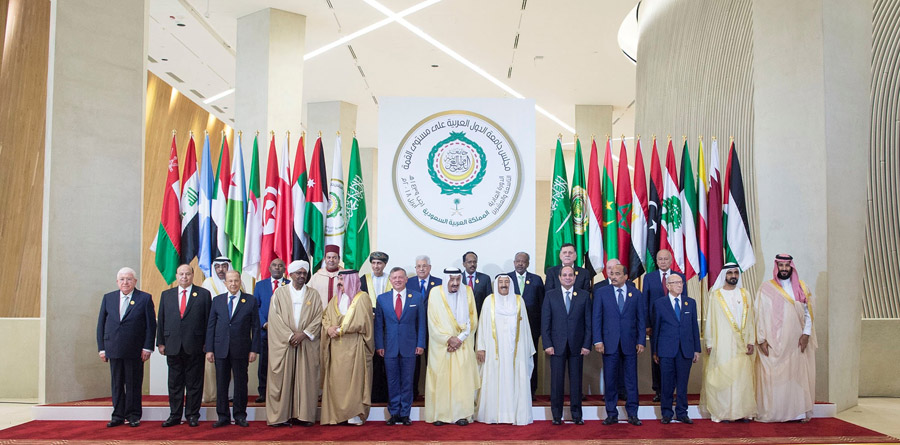 DHAHRAN, Saudi Arabia - The yearly Arab League Summit concluded with unwavering stands for preserving regional peace and unity, especially the problems related to Jerusalem, Syria, Yemen and Iran.
According to an official announcement released by Saudi Press Agency after the summit, the Palestinian-Israeli conflict is the "core issue" concerning the entire Arab world, which firmly insists that East Jerusalem is the capital of the State of Palestine.
The AL strongly opposes the US administration's recognition of Jerusalem as the Israeli capital and decision to move its embassy from Tel Aviv to Jerusalem, and urged all countries not to follow the US measures to harm Arab states' sovereignty.
UN resolutions shall be the only norms in negotiating the conflict, and Israel's unilateral actions could only tamper the facts and hamper the peace process, it said.
Meanwhile, the summit reiterated that political solution is the only path for Syria to realize peace. Only eliminating terrorist groups and cutting off world powers' meddling could create a chance for people to build an independent Syria.
The AL also denounced the use of chemical weapons and called for an international investigation in accordance with global regulations into any such case.
"We stress our absolute condemnation of the use of chemical weapons against the Syrian people and we demand an independent international investigation to guarantee the application of international law against anyone proven to have used chemical weapons," it said.
At the meeting, Jordanian King Abdullah II said the Syrian crisis should be resolved through political negotiation rather than any military action which could escalate regional conflicts.
In this regard, the Astana talks involving Russia, Iran and Turkey, which brokered last year for a political settlement of the Syrian conflict, cannot replace the UN-backed Geneva talks which include more global parties, he added.
Also at the meeting, the Kuwaiti Emir Sheikh Sabah al-Ahmad al-Jaber al-Sabah regretted that a double standard was applied in the Syrian issue, saying Kuwait will not hesitate to offer humanitarian aid to ease the agony of Syrian people.