Thematic show gives artists a comprehensive platform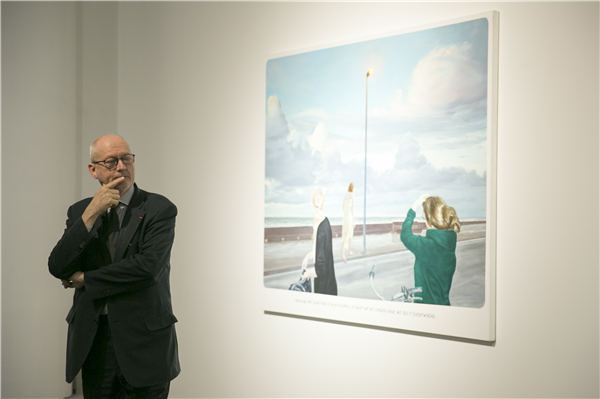 Many artists are not well understood through their works, says curator Lorand Hegyi, who got an idea four years ago to hold a series of thematic exhibitions to let their voices be heard.
Entitled The Artist's Voice, the first of the series of four exhibitions - to be held over two years - opened at Beijing's Parkview Museum on Sunday.
It features paintings, sculptures, installations, photos and videos by 29 established artists from 17 countries.
Speaking about the exhibition, its Hungarian curator and art historian, says: "Each artist has a vision of the world, life, history, values, fears, hopes and love. We should listen to them and understand the message."
At the entrance of the show hangs a photo by American artist Marina Abramovic taken in 1983 to document her performance work Soul of the World.
In it, a mother in red holds her dead son in white.
The artist's choice of rich colors to present the universal concept of life and death shows a "basic humanity", which is what Hegyi wants viewers to feel and understand.
The curator explains that contemporary art is not difficult to understand.
Just like literature, history and music, artworks send messages to viewers to explore basic emotions and values. And they also reflect how artists see the world, adds Hegyi.
In one room, all the works depict migrants.
There are images of migrants in Europe, migrant Chinese workers in Prato's Chinatown in Italy and homeless people depicted by artists such as Chinese oil painter Liu Xiaodong and Hungarian painter Laszlo Feher.
Explaining the idea behind the exhibition, Hegyi says that though we live in a very uncertain world now, confronting various problems, the basic values and subjects such as love and life do not change. That's why all the artworks focus on these subjects.