Ministry to improve emergency response
Share - WeChat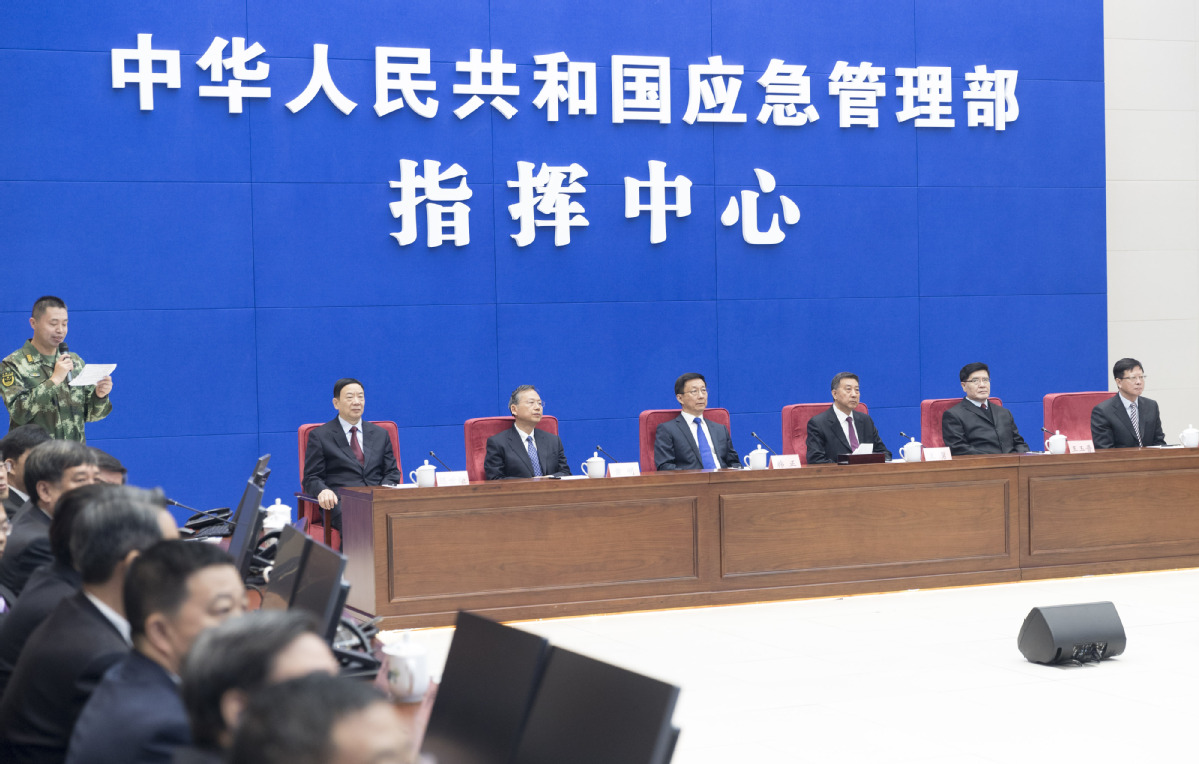 In past, rescue teams were scattered, but now they'll be under a single body
The new Ministry of Emergency Management, which officially began functioning on Monday, will help integrate China's scattered disaster-relief resources to cope with the country's frequent natural disasters and accidents, experts said.
Ceremonies inaugurating the ministry were held in Beijing and attended by Vice-Premier Han Zheng, who is also member of the Standing Committee of the Political Bureau of the Communist Party of China Central Committee.
China is one of the countries worst hit by natural disasters, and is adapting to the situation by establishing the ministry, said Zhang Xingkai, president of China Academy of Safety Science and Technology.
Of the 50 natural disasters worldwide with more than 100,000 casualties over the past three centuries, 26 happened in China, and 70 percent of the 151 million people killed in these disasters were Chinese.
Workplace accidents from 2011 to 2015 in the country are estimated to have resulted in direct economic losses of 562 billion yuan ($89.4 billion) and indirect losses of 1.1 trillion yuan, according to Zhang.
He said that populations are more densely concentrated in areas with more infrastructure, so improper emergency management can result in great losses.
Shan Chunchang, a specialist in emergency management for the State Council, said that while risk is on the rise from increasing populations and infrastructure in urban areas, emergency management is underdeveloped in rural areas, especially in the China's central and western regions. "The new ministry will be key in building up an efficient emergency response system to safeguard people's lives and wealth," Shan said.
The new ministry will take over the responsibilities of the former State Administration of Work Safety, along with functions from other ministries including firefighting from the Ministry of Public Security, disaster relief from the Ministry of Civil Affairs, geological disaster prevention from the Ministry of Land and Resources, drought and flood control from the Ministry of Water Resources and prairie fire control from the Ministry of Agriculture.
"Previously, various rescue teams were scattered across different government bodies. Not every one of these government bodies, however, will respond to emergencies frequently. Some of the teams may be idle for a long period of time, which will affect their capacity for emergency response," Shan said.
As the world enters the era of big data, the establishment of the ministry will also help in integrating and applying emergency-related data, said Wang Yukai, a professor at the Chinese Academy of Governance.